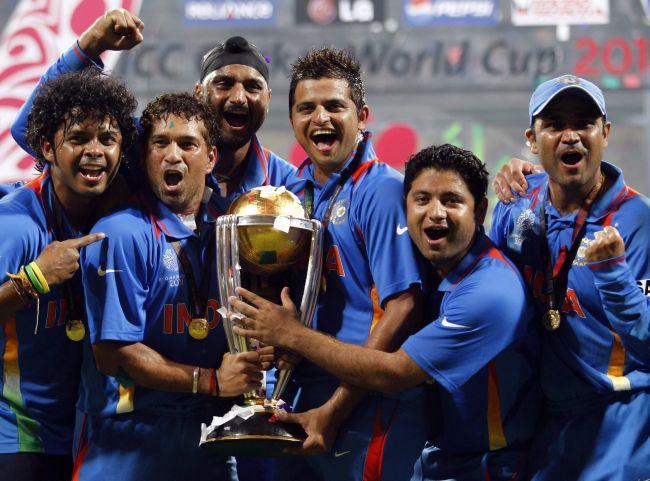 Sachin Tendulkar celebrates after winning the World Cup. Photograph: Adnan Abidi/Reuters
Sachin Tendulkar's awe-inspiring career, which lasted more than two decades, would have been incomplete had he not been part of the 2011 World Cup-winning Indian cricket team, feels Pakistani pace legend Wasim Akram.
In a column for the ICC, with 100 days to go for the World Cup, Akram, who played in four ICC Cricket World Cups against Tendulkar, said: "Personally, I think a World Cup triumph completes the career of a professional cricketer. And the testament to this are the reactions of Sachin Tendulkar when he lifted the World Cup in his sixth attempt in Mumbai in 2011.
"These were an expression of total satisfaction from a modest and humble player who wanted to win the World Cup so desperately. On 2 April 2011, Tendulkar engraved his name in gold as the greatest, most accomplished and complete cricketer."
Wasim Akram. Photograph: Andy Clark/Reuters
Akram won the World Cup with Pakistan in 1992, skippered the side to the final in 1999, and was a member of the sides that reached the semi-final in 1987 and quarter-final in 1996.
However, his last World Cup appearance was a forgettable one as Pakistan failed to reach the Super Six stage.
"In contrast, there are some of the modern day icons who have never tasted a World Cup success. Ask Brian Lara, Rahul Dravid, Saurav Ganguly and Jacques Kallis, and they will tell you what is missing from their distinguished careers," he said.
"Likewise, talk to Mike Gatting and he will share his regret of playing a reserve sweeping shot in the 1987 World Cup final, and I am sure the drop catch of Steve Waugh in Headingley in 1999 still haunts Herschelle Gibbs. Similarly, Waqar Younis will be cursing his early career fitness issues which forced him to return home just before the start of the 1992 World Cup."
Akram was the player of the 1992 World Cup final in Melbourne, and is the third leading wicket-taker in the World Cup history, behind Glenn McGrath (71) and Muttiah Muralidaran (58), with 55 wickets. In 2009, he was inducted into the ICC Cricket Hall of Fame.