Iconic Indian cricketer Sachin Tendulkar, a devotee of the late Sathya Sai Baba, on Monday paid his last respects to the godman who died in Puttaparthi, on Sunday.
The 38-year-old Tendulkar skipped his birthday celebrations on Sunday to mourn the death of Sai Baba, who battled multiple-organ failure before breathing his last at 85 years of age.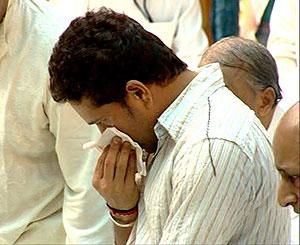 The iconic batsman was accompanied by his wife Anjali during his visit to the Sai Kulwant Hall in Prashanti Nilayam in Puttaparthi. The couple was moved to tears upon arriving at the hall where they sat for a while before driving off.
The Baba's body has been kept here for two days for his millions of devotees to pay their last respects.