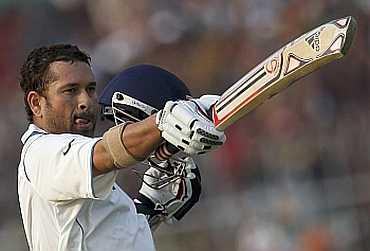 Indian batting icon Sachin Tendulkar and Virendra Sehwag are among the nominees for the 'ESPNcricinfo@20 Cricketer of the Generation' award.
The cricket website added two more categories -- Cricketer of the Generation and Contribution to Cricket -- to the six it announced earlier for its seventh annual awards.
Besides Tendulkar and Sehwag, former West Indies run machine Brian Lara, Sir Lanka's Muttiah Muralitharan, Australia's Shane Warne and South Africa's Jacques Kallis are in the fray for the award.
As the closing element of ESPNcricinfo's 20th anniversary celebrations, a 50-member jury of current and former cricketers, and leading sportswriters, will pick the finest player of the last 20 years for the award.
The winner will be presented a Renault automobile.
Last month, the website announced nominees for the annual ESPNcricinfo Awards, sponsored by Renault, which recognise the best cricket performances in 2013.
The winner of the 'Contribution to Cricket' award will be nominated by former India captain Rahul Dravid.
The award will consider contributions from all over the cricket ecosystem, from groundsmen to pitch curators, umpires to grassroots organisers, or just about anyone who has made a positive impact on the game.
"The Contribution to Cricket award was conceived to reward values that are pivotal to the sport - hard work, commitment, selflessness, fair play, and a dedication to the game. These are attributes embodied by many people across many aspects of the sport who are rarely – if ever – given credit for the amount they contribute to this great game," said Dravid.
Speaking on the new categories, Sambit Bal, editor-in-chief, ESPNcricinfo, said: "The Cricketer of the Generation is a one-time award coinciding with the 20th anniversary of ESPNcricinfo, and with the Contribution to Cricket award, we aim to expand our horizon beyond the playing field."
Cricketers and industry leaders from around the world will attend the gala awards event in Mumbai on March 14.
Image: Sachin Tendulkar