A new business venture and imparting batting tips to son Arjun are two things that Sachin Tendulkar is currently focussing on before he shifts his concentration to the upcoming England series.
The iconic batsman has been regularly visiting the MCC cricket academy to coach his 11-year-old son, Arjun -- and passing on tips to other people using the indoor nets in London. An honorary life member of the club, Tendulkar, who has been staying at a property he owns near the Lord's cricket ground, has been visiting the academy in London for the past few days.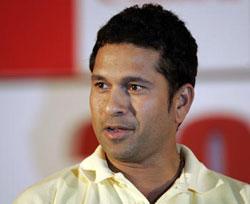 "He (Tendulkar) has been a regular visitor at the Lord's in recent weeks," an MCC spokesman was quoted as saying in Sunday Telegraph.
And when he is not coaching little Arjun, he is devoting time in his new business venture in Winchester. It's about cricket-themed entertainment centres where you will be able to bat against an image of Tendulkar (or other, better international bowlers) that runs in and delivers a semi-hard ball at you; or bowl against an image of him that deals with your delivery after calculating the trajectory and rotations of the delivery.
Last week Tendulkar who was watching matches at the Wimbledon interacted with the legendary Roger Federer. Though he has not had a single nets session, Tendulkar will start training this week for India's four-match Test series against England.
The champion batsman will be aiming for his 100th international century when India take on England at the Lord's Test, the 100th between the teams, and the 2000th in the history of the game.