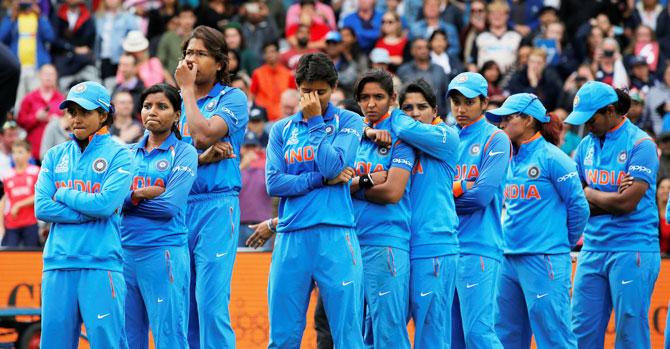 IMAGE: India players wear a dejected look at the presentation ceremony after their World Cup loss to England at Lord's on Sunday. Photograph: Andrew Couldridge/Action Images via Reuters
The Indian women's cricket team lost the final of the Women's World Cup against England by 9 runs on Sunday but the girls have received tremendous support with urges to not be disheartened by the failure.
Leading the litany of praises for Mithali Raj and her girls was Prime Minister Narendra Modi.
"Our women cricketers gave their best today. They have shown remarkable tenacity & skill through the World Cup. Proud of the team! @BCCIWomen", he tweeted.
The Indian cricket board also congratulated the girls for achieving a milestone.
The Board of Cricket Control for India (BCCI)'s acting president CK Khanna, while congratulating the team, said: "I congratulate the team. They have achieved a milestone. Now everyone will see them with great respect," Khanna told ANI on Sunday.
The game's parent body, the International Cricket Committee also took to Twitter to share a few words of motivation for the dejected Indian squad: "Commiserations to @BCCIWomen after an extremely closely fought final - you did you country proud throughout the whole of #WWC17."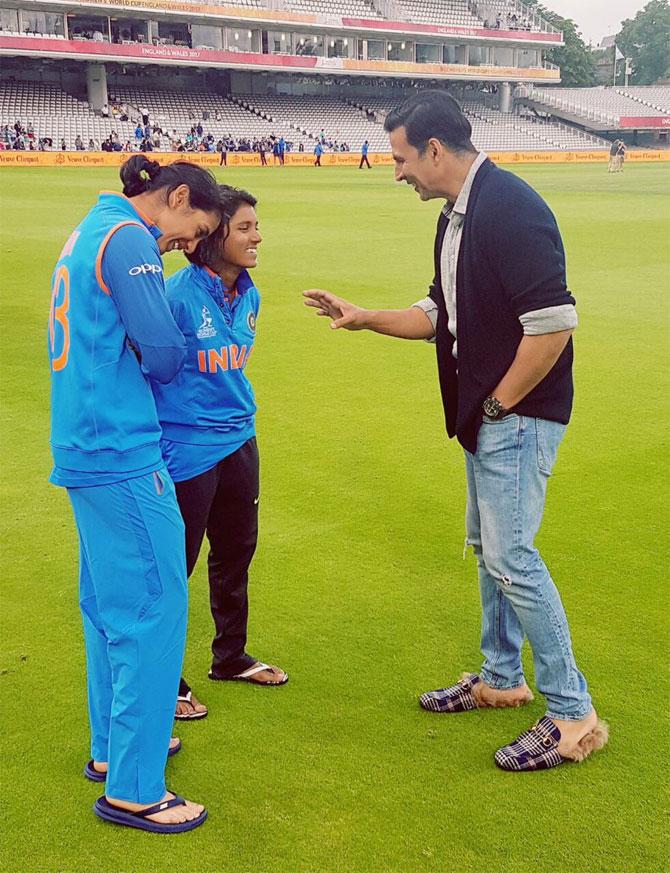 IMAGE: Bollywood star Akshay Kumar speaks to Harmanpreet Kaur and Punam Raut after the match. Photograph: Akshay Kumar/Twitter
India's men's team opener Shikhar Dhawan also gave a shout out to his female counterparts.
"Congratulations to the England Women's cricket team. Well played @BCCIWomen. The entire country is proud of you for playing great cricket! :)", he tweeted.
Former India opener Virender Sehwag also took to Twitter to say a few words of encouragement.
"Super proud of the girls. Tough luck today but womens cricket in India has truly arrived. Thank you girls .Salute your spirit (sic)," he tweeted.
Bollywood superstar Akshay Kumar, who was spotted waving the tri colour during the match, met the team after the match and was seen lifting their spirits.
He then tweeted pics of his meeting with some of the players and posted a tweet stating: "Even Broken Hearts Can Laugh!! These Women have started a revolution & I couldn't be more proud #WWC17Final."