'We are creating a habit of winning. That I think can be carried on in the future as well'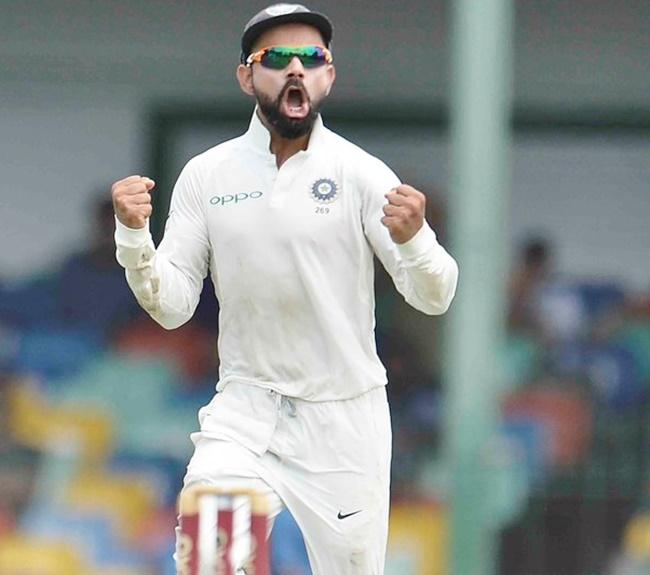 IMAGE: India has a chance of an away whitewash. Photograph: SLC/Twitter
India believe their winning habit at home and abroad will create even greater success, captain Virat Kohli said on Sunday after their second-Test victory over Sri Lanka clinched the three-match series.
It is their eighth successive Test series win under Kohli, who also became the first Indian captain to triumph in two Test series in Sri Lanka after the victory by an innings and 53 runs at Colombo.
Another win in the third Test, which starts at Pallekele on August 12, would see them complete their first Test series whitewash in Sri Lanka, but Kohli says their mindset is not affected by such landmarks.
"It's obviously nice to win this series again," Kohli told reporters.
"Yes, we do have that chance (of an away whitewash), but honestly speaking, we are not looking at Test matches or Test cricket now as home and away anymore.
"We are just looking at Test matches as Test matches and we want to win anywhere that we play.
"We are creating a habit of winning. That I think can be carried on in the future as well. Test cricket is the most important thing for us. And everyone plays with a lot of passion."
Kohli praised the batsmen for their impressive performances over the last few Tests and says the high morale in the dressing room could help the team continue their winning streak.
"If you see, last nine Test matches, six times we've got 600 runs. That shows the hunger of the batsmen, they are waiting for an opportunity, there are lower-order contributions as well... they feel great as a team," Kohli added.
"In the dressing room we feel really proud of each other's efforts, that we're really putting in those consistent, convincing performances, and winning Test matches more often than getting the other results.
"We really feel good as a team that we're able to win consistently right now, but we realise that it's very important to keep carrying on the same way as well."