The Tata Group on Tuesday released a book, titled 'To Strive and To Soar', which chronicles the company's contribution to sports excellence in India.
Former India cricket captain Sunil Gavaskar and Narain Karthikeyan, India's first Formula One driver, released the book, which is in the form of a visual anthology, in Mumbai.
Both past and present champions from the house of Tata graced the occasion.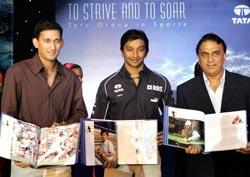 Gavaskar praised the Tatas for their contribution towards the growth of sports and urged other corporate houses to follow in their footsteps.
India fast bowler Ajit Agarkar and Karthikeyan also spoke about how the company helped them in their formative years.
The book, written by Devina Dutt, captures the unique spirit common to sporting endeavour and human talent.