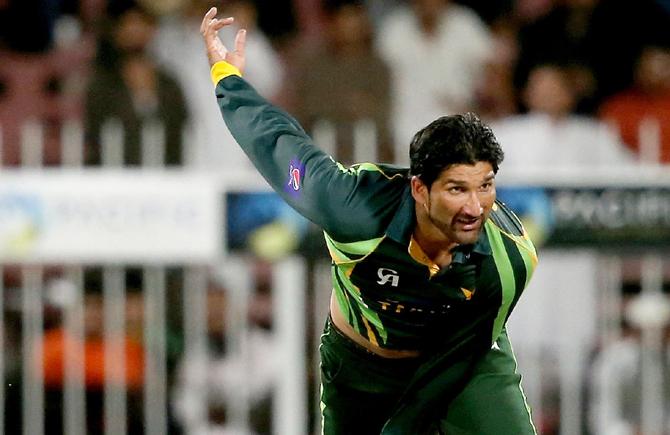 IMAGE: Pakistan's Sohail Tanvir bowls. Photograph: Francois Nel/Getty Images
Pakistan fast bowler Sohail Tanvir, who has been recalled to the national squad for the upcoming one-off T20 match against England, said that being in and out of the team on a regular basis can adversely impact the mental health of a player but added that he is determined to put his best foot forward in the next game.
"I am obviously overjoyed with another opportunity to represent Pakistan but I do wonder why I was side-lined in the first place. Being in and out of the team does take a mental toll on any player and it becomes that more difficult to establish a place for oneself in the team if this happens a lot," Sohail was quoted as saying by Pakpassion.net
Despite being the fourth-highest wicket-taker in the Twenty20 format for Pakistan behind Shahid Afridi, Saeed Ajmal and Umar Gul, Sohail was later sidelined for tours of New Zealand, the Asia Cup and the World T20 in India.
However, the 31-year-old paceman, who played his last T20 international in November, insisted that his unwavering dedication and commitment toward the sport paved his way for his selection in the national side.
"But thankfully I have never given up and continued working hard as I did in the Caribbean Premier League where I was the second highest wicket-taker with twenty wickets and had the best economy rate in the tournament as well. As always, it is an honour to serve Pakistan and I am looking forward to the game in England and hoping for the best," said Sohail.
While Pakistan are languishing at ninth spot in the ODI ranking, the T20I ranking also doesn't provide any relief for the Asian nation -- they are placed seventh.
After enduring a humiliating ODI series defeat against England, the one-off T20 match on Wednesday represents a final opportunity for Pakistan to repair their reputation in the shorter formats of the game.