His great grandfather played Test cricket for both England and India.
His grandfather was arguably the most charismatic captain India has had.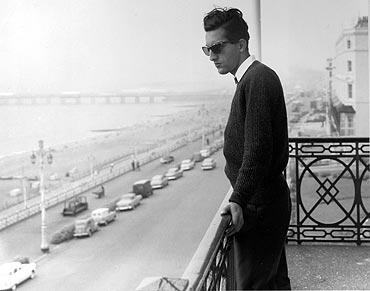 Taimur Ali Khan Pataudi's great grandfather Iftikhar Ali Khan Pataudi scored a Test century on debut.
The series was the Bodyline series of 1932-1933, and the century was made in the first Test against Australia at Sydney.
The 8th Nawab of Pataudi didn't care for Douglas Jardine's methods to keep the free scoring Australian genius Don Bradman in check and made it known to his Bombay-born skipper.
'I see His Highness is a conscientious objector,' Jardine replied.
After scoring 15 and 5 in the Melbourne Test, Jardine dropped Pataudi from the side.
Pataudi would play just one more Test for England, scoring 12 and 10 against Australia at Trent Bridge in 1934.
Poor health kept him away from the game, but when he did play county cricket, he had averages of 49 and 91.33.
Health was cited as the reason why he didn't captain India against England on the 1936 tour -- he had ruled himself out of the tour four years earlier -- and it took 10 years and after the war for him to lead his native country.
The 1946 tour was not a success. He only scored 55 runs in 5 Tests, and his captaincy was deemed indifferent.
I A K Pataudi, below, left, died tragically young -- he was only 41 -- on his son Mansur Ali Khan Pataudi's 11th birthday.
He played 6 Tests, scored 199 runs, had a highest score of 102 and an average of 19.90.
'Tiger' Pataudi, top, is arguably the most charistmatic captain Indian cricket has had.
Thrust into the captaincy when he was only 21 -- after Captain Nari Contractor was seriously injured by a Charlie Griffith bouncer on a tour of the West Indies in 1962 -- Tiger led the country in 40 of the 46 Tests he played for India.
Blinded in his right eye in a car accident in England in 1961, he batted courageously and stylishly against fast bowlers like Australia's fearsome Graham Mackenzie and with skill against the spinners.
And he was one of the finest fielders of his time, prowling the field at cover like the fabled panther.
His greatest legacy will always be giving Indian cricket belief, belief that it could win any game against any side in the world, no matter how mighty.
And though he won just 9 Tests, the players who played under his leadership -- Chandu Borde, Ajit Wadekar, Bishen Singh Bedi, E A S Prasanna, B S Chandrashekhar, M L Jaisimha, Dilip Sardesai, Ramakant Desai, Bapu Nadkarni, S Venkataraghavan, Farokh Engineer, Budhi Kunderan among others -- as those truly fortunate to see him play and lead will always remember the sheer elan in whatever he did on the field.
Saif Ali Khan, Taimur's dad, played cricketer at Winchester, the school he went to in England, the same school that Tiger went to. Saif's elder son Ibrahim too is known to play some cricket.
Hopefully, Taimur Ali Khan will once again make the Pataudi name famous on cricketing fields in India and elsewhere.