Making a comeback in international cricket after successfully fighting cancer, Yuvraj Singh said that playing the Twenty20 International against New Zealand would be the biggest moment in his career since the cricket World Cup final.
"I guess this wud be my biggest day aftr w cup final I'm really overwhelmed with the love and support of everyone who have send me wishes," Yuvraj, tweeted.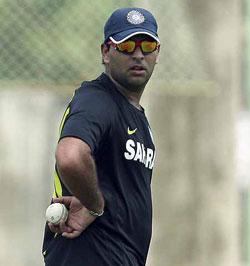 "Few hours to go till I wear my fav jersey To my mom my friends my fans this wud not bin pos thnks for ur lov nd courage," he wrote on his twitter page a few hours before the T20 match in Visakhapatnam on Saturday.
Sending a message to those suffering from cancer, Yuvraj said, "Is that if yuvi can u can fight cancer and come back wher u belong ! So shout youwecan today all those who u survivors and r goin to survive.
"For the cancer society! See u on the field and I hope it On the field! I just expect to enjoy the moment and hopefully lot of awerness will spread thru youwecan today! The msg I want to send today," he wrote.
He thanked his doctor who treated him in the United States, the BCCI and the National Cricket Academy for the support he got while recovering from the disease.
"Thru various chanels from dr ianhorn to a layman every one has bin an imp person in my comeback ! Thnks to bcci and nca for getting me bak," he said.
The cricketing fraternity also wished Yuvraj luck on his comeback with his India team-mate Zaheer Khan welcoming him back to the national side.
"Its been a great, long journey together. Excited to finally have you back on the field," said the veteran pacer on his twitter page.
Out-of-favour England batsman Kevin Pietersen said he was proud of Yuvraj coming back into international cricket after fighting cancer successfully.
"... so proud of you buddy! Doing what you've done gives my best mate @JCEtrust so much belief! Enjoy the day pal..," Pietersen wrote.
Ajinkya Rahane, who was in the India Test squad in the just-concluded series against New Zealand, wrote, "Historic day today. Looking forward to see @yuvstrong12 on the field. All the best Yuvi pa, excited to see u."
IPL chief Rajiv Shukla also joined the players in welcoming Yuvraj back in the national team fold.
"After his long, unbeaten knock agnst Cancer, @YUVSTRONG12 will don the national colours in 2day's T20match. Go Yuvi!India is indeed proud of U," Shukla tweeted.
Photographs: REUTERS/Stringer