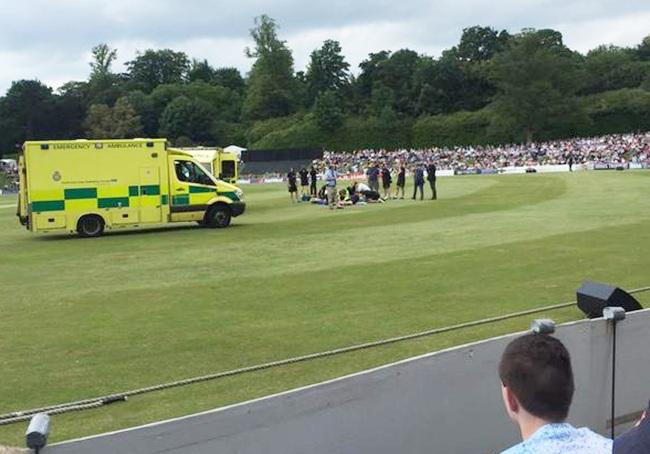 Moises Henriques and Rory Burns are taken to the hospital in an ambulance. Photograph: Twitter
An English county Twenty20 match was abandoned on Sunday when two Surrey fielders ran for a catch and collided, resulting in both being taken to hospital.
The incident, played out in front of a large crowd at Arundel, left Australian Moises Henriques with his jaw broken in three places, said a statement from Surrey.
Englishman Rory Burns, the other player involved, suffered head and facial injuries.
"The latest news from the hospital is that both players are in good spirits," a statement said.
"Rory is waiting to have stitches on head and facial injuries. Moises has broken his jaw in three places and is waiting for an operation and then dental surgery will follow.
"The game was abandoned with the full consent of both sides."
The collision occurred in the 19th over of Sussex's innings and the umpires immediately stopped play to allow the pair to be treated on the field.
Fans watched stunned as the players received lengthy treatment and they were both applauded as they were taken from the field.
BBC cricket correspondent Mark Church, who was covering the match, described the incident as the worst he had seen in a cricket match.
"It was a horrible incident that nobody wants to see happen on a cricket field," said Church.
"Both players were looking into the sky, looking for the catch, and went straight into each other. The atmosphere in the ground was very quiet as the players received treatment.
"If you saw that in the street you would be very upset to see it. It was awful."