England all-rounder Andrew Flintoff has compared his teammate Graeme Swann's scorching off-break that rocked Australian skipper Ricky Ponting's woods in the Edgbaston Test with Michael Vaughan's magic ball that dismissed Sachin Tendulkar in the 2002 Trent Bridge Test.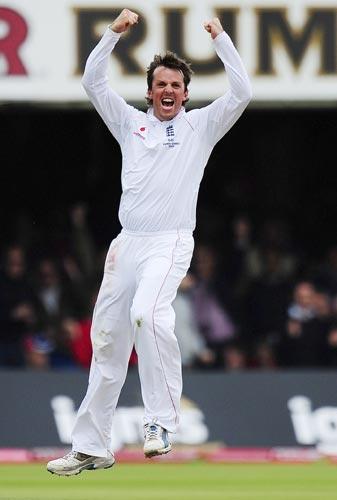 Swann's sharp-turning delivery that shook Ponting's wickets on the fourth day has taken pole position for "that ball" of the 2009 Ashes campaign but Flintoff feels it is at par with Vaughan bowling Tendulkar out in 2002.
"I think it's on a par with Michael Vaughan (bowling Sachin Tendulkar) at Trent Bridge (in 2002)," Andrew Flintoff was quoted as saying in the 'Sydney Morning Herald'.
"It was a fine ball. If you're going to get the best players out in the world you've got to bowl good balls and that was one of the better ones," he added.
During the 2002 Test in Trent Bridge, Vaughan had deceived the Indian with his sharp turning delivery which ripped between Tendulkar's bat and pad as he tried to drive it through the covers.
Frustrated Ponting smashes dressing room door
Frustrated with the Australia's disappointing Ashes campaign so far, Ricky Ponting's anger boiled over during the drawn third Test here and he smashed a dressing-room door at Edgbaston.
According to a report in the 'Daily Mirror', Ponting lost his temper after being dismissed by Graeme Swann in the second innings of the Test in Edgbaston.
"Already chastened by the pantomime villain boos when he came out to bat, Ponting lost his rag after being bowled by Graeme Swann's ball-of-the-century contender on Sunday evening - and a door bore the brunt of his anger," the newspaper reported.
Host club Warwickshire made light of incident and its cricket operations manager Keith Cook said, "We have to make all sorts of running repairs all over the ground.
"I've not had any complaints, but if a batsman has lost his temper when he's out it wouldn't be the first time," he added. Australia is 0-1 down in the five-match series after losing the second Test at Lord's.