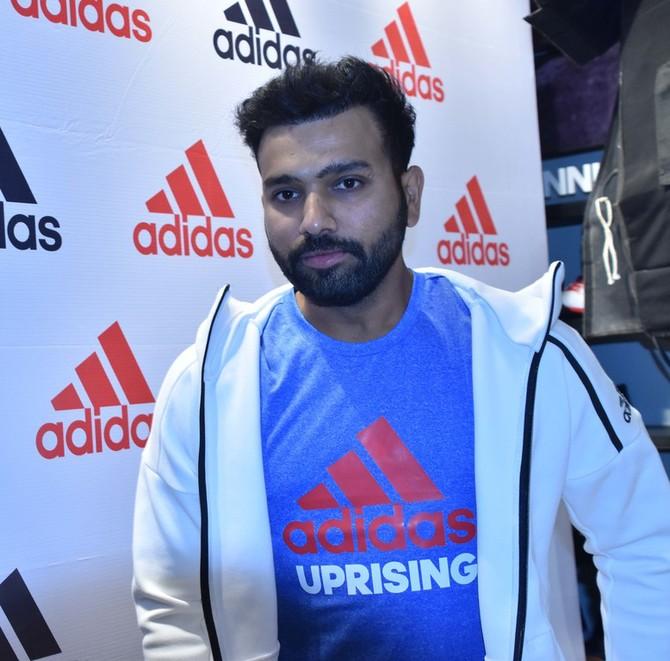 IMAGE: India batsman Rohit Sharma at an event in Mumbai. Photograph: Sail Salvi.
Ruled out of the Test series against England, Indian batsman Rohit Sharma on Friday said he could be out for as long as three months if the doctors decide to operate on his injured thigh.
"I don't know (how much time I will miss cricket) our BCCI medical team is in touch with doctors, the scans we have got till now have been sent to doctors, we are waiting for their opinion, whether to do surgery or not, if we do the surgery then how much time is needed," Rohit told reporters at a promotional event in suburban Bandra.
"The picture is fully not clear. I think in one or two days the picture will be clear, whether it (surgery) is happening or not. It is an important decision if we do surgery. If I do the surgery, I cannot play for 3 to 3 and half months. We are waiting for the doctors' opinion, let's see what happens," the Mumbai player added.
BCCI in a press release confirmed that Rohit will be traveling to London to meet specialists for the treatment of his injury.
"Rohit will travel to London early next week for specialist consultation with a possibility to undergo surgery, as a result of which, he is expected to miss at least 10 to 12 weeks of cricket.
The BCCI medical team will extend all support to Rohit Sharma, to regain full fitness and further contribute to Indian Cricket," the release said.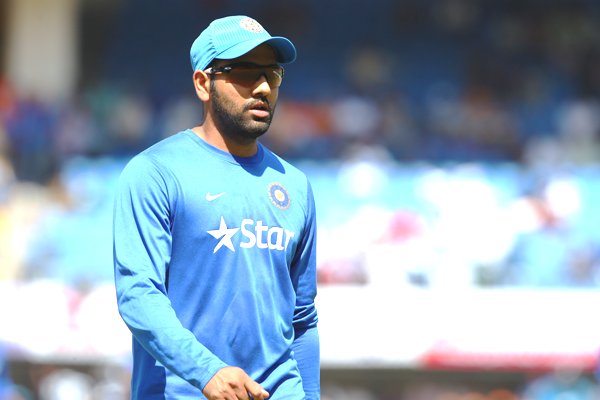 Asked about the nature of his injury, Rohit said, "Like you saw, while taking a run the muscle pulled up then I understood that I won't make it to the crease, so I dived, after that our physio told me that it was necessary to take a scan.
"The next two days was Diwali so all hospitals were closed, so we took the scan on (November) first and after that all the medical reports were given to BCCI medical team," he added.
Rohit, who played against New Zealand in the Test series, sustained a thigh injury on the right leg during the fifth and final ODI at Visakhapatnam on October 29.
The 29-year-old player holds the world record for highest score by any batsman in ODIs.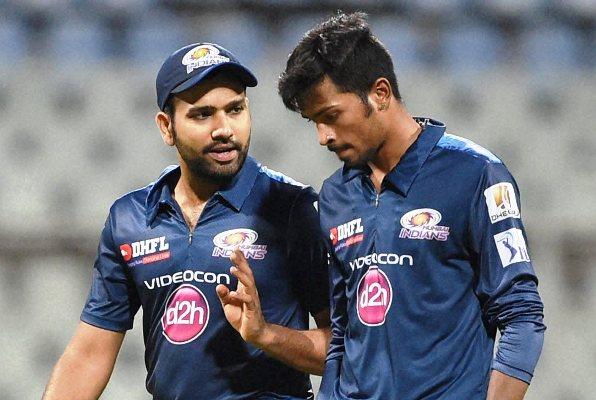 IMAGE: Mumbai Indians captain Rohit Sharma intracts with Hardik Pandya during IPL. Photograph: PTI.
Asked about the inclusion of all-rounder Hardik Pandya in the Test squad, Rohit, who has captained him in Mumbai Indians, said, "We are all waiting. I hope he gets his maiden Test cap, it will be good news for his fans, family and friends."
"He has got real talent, he bowls fast and he has got a good ability to come down the order and bat. He has done it for the state team. So I don't see any reason why he can't do it for his national team also.
"We have seen glimpses in World T2O and also in the ODI series (against New Zealand). It's just that one push he needs from management and players. He has got all the weapons with him for the fight. I have seen him from close quarters. He recently had a successful tour of Australia with India A team and he did well. If he gets an opportunity he will do well," Rohit added.
On the upcoming five-match Test rubber against England which commences November 9 in Rajkot, Rohit said, "They are a very good Test team. When they were here last time they had beaten us. We have got to do a lot of hard work. We understand their strengths and weaknesses, we have to exploit them to our advantage."
Injuries have upset Rohit's Test career in the past too. In 2010, the Mumbaikar was all set to make his Test debut against Australia at Nagpur when he twisted his ankle while playing football with other team members just half an hour before the toss.
Till date, the Mumbai batsman has played in 21 Tests and scored 1,184 runs.