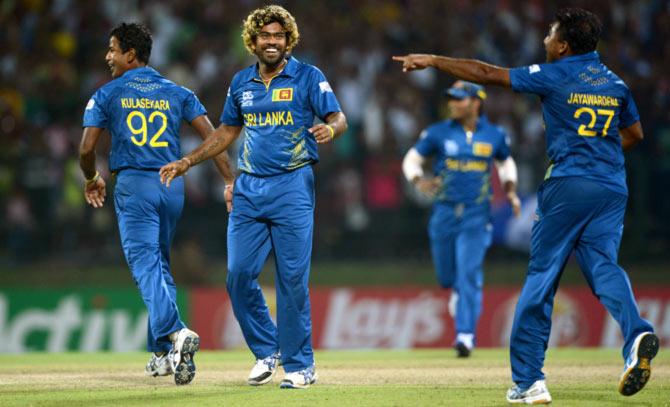 Sri Lanka's players celebrate beating New Zealand via the Super Over during the ICC World Twenty20 2012 in Pallekele. Photograph: Gareth Copley/Getty Images
Replicating the arrangements of the last edition of the World Cup in 2011, the International Cricket Council on Thursday reinstated the use of a Super Over in the event of a tie in the final of the 50-over showpiece event, starting next month in Australia-New Zealand.
- Schedule: ICC Cricket World Cup 2015
Holding its first meeting of the year at the ICC headquarters in Dubai, the board, chaired by Narayanswami Srinivasan and presided by Mustafa Kamal among all the full-member and associate representatives, also approved a change to the application of ICC Code of Conduct offences relating to slow over-rates in ICC events.
The governing body announced that the captains will not carry forward any prior over-rate offence or over-rate suspensions from other series into an ICC event.
This approval means that all captains will enter the forthcoming World Cup with no over-rate offences against their names, and they will only be suspended from playing in any of the matches if over-rate offences are committed during the tournament.
Any over-rate offence incurred prior to the World Cup will be carried forward to the first bilateral series played after the World Cup.
The board also reiterated its support for the umpires' clamping down on poor player behaviour, particularly leading into and during the 11th edition of the 50-over World Cup.
The Board considered issues around player safety following the tragic death of Australia batsman Phillip Hughes during a first-class match, and was briefed on the ICC-supported research project to improve the safety of cricket helmets.
The freak accident in November last year has recently resulted in a new British Safety Standard being introduced.
It was noted that helmet manufacturers have now introduced a number of new helmet models that comply with the updated British Standard, and that an increasing number of international players have been choosing to wear the helmet models that comply with this new safety standard.
The world governing body also received an update on the World Cup and approved the dates of the ICC events through to 2019.