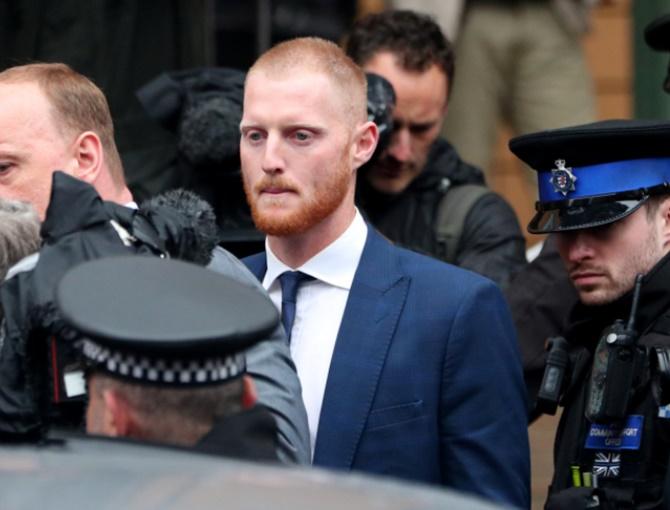 IMAGE: Ben Stokes leaves Bristol Magistrates Court in Bristol. Photograph: Hannah McKay/Reuters
Ben Stokes will join his England team mates in New Zealand later this week after the cricketer appeared at a magistrates' court on Tuesday to indicate a plea of not guilty to a charge of affray.
"Having entered his plea at Bristol Magistrates Court today, Ben Stokes will now travel to New Zealand to join the England squad," the England and Wales Cricket Board (ECB) said in a statement.
The ECB said Stokes, who was arrested in September after an incident outside a Bristol nightclub, would arrive in New Zealand on Friday to train with his team mates in Hamilton.
"Any decision to include him in upcoming matches will be made by Head Coach Trevor Bayliss and the England management team. He is not currently being considered for the ongoing International T20 Tri-Series," the ECB added.
The 26-year-old Durham all-rounder appeared at the magistrates' court in the south-western English city with two other men.
Media reports said Stokes, 28-year-old Ryan Ali and 26-year-old Ryan Hale spoke to confirm their names, dates of birth, addresses and nationalities.
They added that all three had indicated they were acting in self-defence or defence of another.
A spokesman for the magistrates' court said they were sent to Bristol Crown Court on unconditional bail for a hearing to start on March 12. The ECB said Stokes would not be required to return to Britain for the opening day of that trial.
It added that any obligations the player had "within the legal process will always take precedence over England commitments."
Stokes, who has not played for England since the incident cost him a place on the Ashes tour of Australia, was cleared for selection by the England and Wales Cricket Board (ECB) last month.
Tuesday's court appearance came on the day England played New Zealand in a T20 match in Wellington, their first game in a tri-series also involving Australia.
Stokes, vice-captain of the England test team and one of world cricket's most destructive batsmen, was arrested on Sept. 26 after scoring 73 in a 124-run one day international win over West Indies in the south-western city.