Pace bowler Steve Harmison, who has signed a fresh four-year deal with county champions Durham, has refused to end his international cricket career despite not being part of England's tour to South Africa.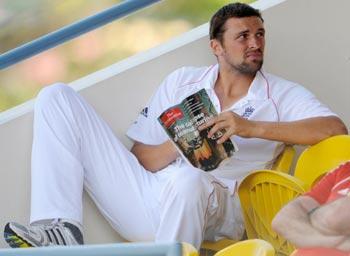 Discarded from the England squad, Harminson has not given up hope that he will spearhead his country's defence of the Ashes in Australia in 2010.
"I really love playing for England and if the opportunity came I would love to play for them again, but they are building for the future now. I've got 226 wickets out of 60-odd Tests so I feel my point has been proved. My record stands up with most," The Telegraph quoted Harmison, as saying.
"I will go out like I did this year and the year before that to try and take wickets for Durham. If that sees my name put in the hat to play for England again and I can be of service, I will be happy to do that," he said.
"England has made their decision to build for the future, which is fine by me. I have no problems with that. They are going through an exciting time; they are going with a group of young fast bowlers to South Africa, which will be helpful for them. I hope they do well," Harmison added.
But Harmison is refusing to end his England career and is hoping that a few months off this winter will invigorate him ahead of another push for national team selection.
Harmison insisted that he would be pouring all his energies into representing Durham after signing his new contract.
"I have always loved playing cricket for Durham and I'm incredibly proud to represent the club and to be part of the set-up here. I'm looking forward to the next four seasons, especially 2010 as we look to win the County Championship for a record third year," he said.
Durham head coach Geoff Cook said he was delighted that Harmison had pledged his future to the county.