Statistical highlights on day 3 of the first Test between India and New Zealand in Kanpur on Saturday.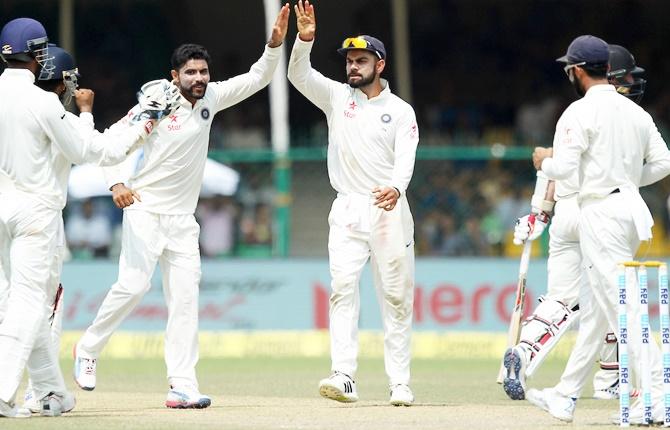 IMAGE: Ravindra Jadeja of India celebrates the wicket of Ross Taylor of New Zealand, in Kanpur, on Saturday. Photograph: BCCI.
# Cheteshwar Pujara has recorded two fifty-plus scores for the second time in a Test match -- 62 & 50 not out. The first occasion was vs Australia at Delhi in March 2013 -- 52 & an unbeaten 82.
# Pujara is averaging 66.37 in Tests on Indian soil as compared to his average of 33.36 away from home.
# Ravindra Jadeja enjoys an impressive bowling record in Tests in the Indian subcontinent -- his tally being 55 wickets at an average of 15.60, including four five-wicket hauls.
# Jadeja's present bowling average is the best by any bowler in Tests in Asia (minimum 50 wickets). Richie Benaud has the next best average -- 71 wickets in 12 Tests at an average of 19.32, including six five-wicket hauls and one instance of 10 wickets in a Test match.
# Jadeja has captured five wickets or more in an innings five times in Tests -- four five-wicket instances on Indian soil and one overseas.
# Jadeja has claimed three five-wicket hauls in six Tests under Virat Kohli's captaincy.
# Kane Williamson's batting average of 86.20 in seven innings (431 runs in seven innings) is the second highest by a captain in Tests (minimum 200 runs), next only to the 101.51 by Don Bradman.
# Ross Taylor has recorded successive ducks for the first time in Tests -- vs South Africa at Centurion last month and vs India at Kanpur.
# Taylor's 11th duck in Tests is his first in 10 Tests vs India.
# Three century stands for the second wicket have been registered in a Test match for the third time. Murali Vijay and Cheteshwar Pujara put on 112 (1st innings) and an unbroken 107 (2nd innings) and 124 by Kane Williamson and Tom Latham in the 1st innings.
# The first two instances in Test annals were registered in the 1953 Lord's Test between Australia and England and the 1972-73 Melbourne Test between Pakistan and Australia.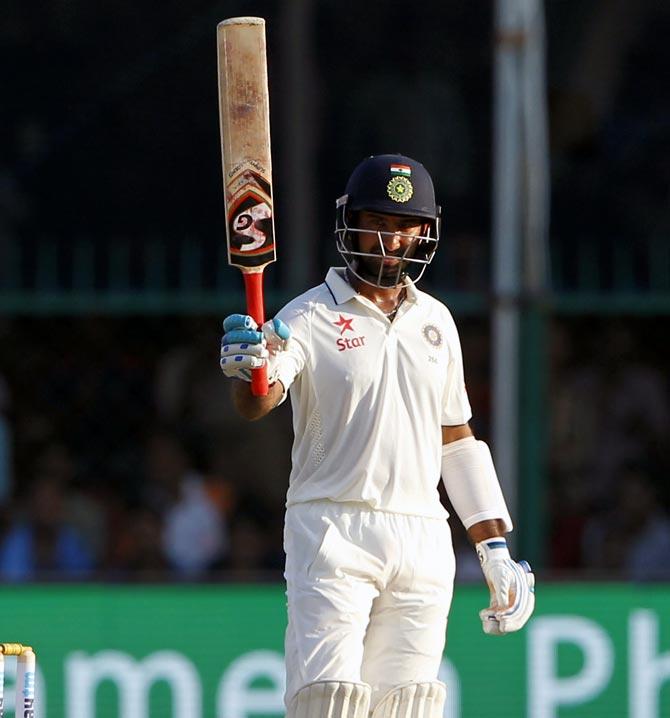 IMAGE: Cheteshwar Pujara of India celebrates his half century against New Zealand, in Kanpur, on Saturday. Photograph: BCCI.
# Pujara and Vijay have become the eighth Indian pair to share a century stand in each innings of a Test match.
# Six New Zealand batsmen have been dismissed LBW in an innings for the first time vs India.
# This is the second such instance by any side in a Test innings vs India. The first was West Indies in their first innings of 443 at Mohali in December 1994.
# India have provided their fifth instance when the top three players have scored 30 or more in both the innings of a Test match -- the second such instance at Green Park, Kanpur.
# Vijay and Pujara have provided the third instance when two Indian batsmen have recorded 50-plus in each innings of a Test match vs New Zealand. The first two instances were Aakash Chopra and VVS Laxman at Mohali in October 2003 and Rahul Dravid and VVS Laxman at Napier in March 2009.