The first ever Test series between India and New Zealand was played almost half a century ago, in 1955-56. The five-Test series was played in India between November 1955 and January 1956.

The series witnessed the late leg-spinner Subhash Gupte mesmerizing the Kiwis with his bowling. He picked up 34 wickets in the series at 19.68 runs apiece.
The batting was dominated by Bert Sutcliffe, who scored 611 runs at an average of 87.29. For the Indians, Vinoo Mankad was the top scorer in the series with 526 runs, including two double centuries.
A detailed look at the five Test matches:
The first ever Test match between the two countries was played at the Fateh Maidan in Hyderabad. Indian skipper Ghulam Ahmed won the toss and elected to bat, declaring the first innings closed at 498 for 4. The biggest contributor was Polly Umrigar with 223, his highest Test score. Vijay Manjrekar (118) and A G Kripal Singh (100) also scored hundreds.
Umrigar shared a 238 run partnership for the third wicket with Manjrekar. He then combined with Kripal Singh to put on 171 runs for the fourth wicket.
Leg-spinner Subhash Gupte then proceeded to destroy the tourists with a seven-wicket haul. His figures of 7 wickets for 128 runs off 76.4 overs restricted New Zealand to 326 all out, giving India a lead of 172 runs.
Following on, New Zealand batted out the final day scoring 212 for 2, with Sutcliffe scoring an unbeaten 137 as the match ended in a draw.
Brief scores:
India (1st innings): 498-4 decl (P R Umrigar 223, V L Manjrekar 118, Kripal Singh 100*, J A Hayes 3-91)
New Zealand (1st innings): 326 (J W Guy 102, A R MacGibbon 59, J R Reid 54, S P Gupte 7-128)
New Zealand (2nd innings): 212-2 (B Sutcliffe 137*, J R Reid 45*)
Result: Draw
The second Test was played at the Brabourne Stadium, Bombay. India won the game comfortably by an innings and 27 runs to take a 1-0 lead in the five-match series.

Polly Umrigar, hero of the first match, was named the captain in place of Ghulam Ahmed. Umrigar also won the toss and elected to bat. This time Vinoo Mankad scored a double century, exactly the same number, 223, as Umrigar in the first Test. The only other notable contribution, 63, came from Kripal Singh. Umrigar declared the innings closed at 421 for 8. Skipper Harry Cave was the best bowler on show, taking 3 for 77.
New Zealand were then bundled out for 258, with Gupte picking 3 for 83.
Following on, the Kiwis were bowled out for 136. Gupte picked up 5 for 45 in the second innings, while Mankad helped himself to 3 for 57.
Sutcliffe was once again the key contributor for Kiwis with scores of 73 and 37 in the two innings.
Brief scores:
India (1st innings): 421-8 decl (M H Mankad 223, A G Kripal Singh 63,  H B Cave 3-77)
New Zealand (1st innings): 258 all out (B Sutcliffe 73, S P Gupte 3-83)
New Zealand (2nd innings): 136 all out (S P Gupte 5-45, M H Mankad 3-57)
Result: India won by an innings and 27 runs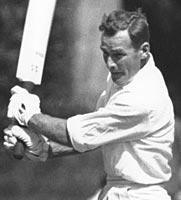 The third match of the series took place at the Ferozshah Kotla in Delhi. This time Cave won the toss and elected to bat. In response, the Kiwis piled up 450 for 2 declared. Sutcliffe continued his good batting form with an unbeaten double century (230*). John Reid was the other key scorer, with an unbeaten 119. The duo were involved in a 222 run partnership for the third wicket.
But India's reply was even better: 531 for 7 wickets declared. Vijay Manjrekar led the counterattack with a well-made 177. Nari Contractor (62), G S Ramchand (72) and Bapu Nadkarni (68*) were the other major contributors.
Thereafter the game became a formality with New Zealand playing out the remaining overs on the final day to ensure a draw. Umrigar used as many as nine bowlers, excusing just himself and wicket-keeper Naren Tamhane. Manjrekar did the bulk of the bowling, 20 out of 58 overs, and picked up the only wicket to fall as well.
The result left India still leading the series 1-0, with two matches to go.
Brief scores:
New Zealand (1st innings): 450-2 decl (B Sutcliffe 230*, J R Reid 119*)
India (1st innings): 531-7 decl (V L Manjrekar 177, G S Ramchand 72, R G Nadkarni 68, N J Contractor 62)
New Zealand (2nd innings): 112-1 (J G Leggat 50*, S N McGregor 49)
Result: Draw
The fourth Test was played at the Eden Gardens, Calcutta. Umrigar once again won the toss and elected to bat. But this time the Indian batting failed miserably and the side collapsed to a disappointing 132 all out in 59.3 overs. John Reid took 3 for 19 off his 16 overs. Jaysinghrao Ghorpade was the highest scorer with 39 runs.
New Zealand then seized the initiative with a good batting performance. Reid led the batting as well with a superb century (120). One-drop batsman John Guy also contributed 91 as the Kiwis compiled a solid 336.
Gupte was once again the hero for India with 6 wickets for 90 runs in his 33.5 overs. The remaining wickets were shared by G R Sunderam and G S Ramchand.
Trailing by 204 runs, India needed a solid batting performance to salvage the Test. The players were equal to the task, with opener Nari Contractor ensuring a good start with a solid 61 after Vinoo Mankad had been dismissed early. Pankay Roy (100) and GS Ramchand (106*) then scored centuries while Vijay Manjrekar missed out by just 10 runs as Umrigar declared the second innings closed at 438 for seven.
Set a target of 235 with less than half a day to go, New Zealand went all out before finishing at 76 for 6 in 34 overs. Gupte took 2 wickets for 30 runs to take his match tally to eight. Paceman Dattu Phadkar and Vinoo Mankad also got two wickets each.
The draw meant that New Zealand had to win the final Test to level the series.
Brief scores:
India (1st innings): 132 all out (J M Ghorpade 39, J R Reid 3-19)
New Zealand (1st innings): 336 all out (J R Reid 120, J W Guy 91, S P Gupte 6-90)
India (2nd innings): 438-7 decl (G S Ramchand 106*, P Roy 100, V L Manjrekar 90)
New Zealand (2nd innings): 75-6 (S N McGregor 29, D G Phadkar 2-11, M H Mankad 2-14, S P Gupte 2-30)
Result: Draw
The fifth Test was played at the Corporation Stadium in Madras. India registered a convincing victory, beating the Kiwis by an innings and 109 runs to take the five-match series 2-0.
Electing to bat, India scored a mammoth 537 for 3 wickets declared, with Vinoo Mankad and Pankaj Roy compiling a world record opening stand of 413, before Roy was finally dismissed for 173. The record, which was achieved on January 7, 1956, stands to this day.
Mankad went on to score his second double century of the series and was eventually dismissed for 231.
When it was New Zealand's turn, they were once again rocked by Gupte who took 5 wickets for 72 runs in 49 overs. The Kiwis were all out for 209 runs.
Following on, New Zealand managed just 10 runs more in their second innings to lose the match by an innings and 109 runs. Gupte with 4 for 73 and Mankad with 4 for 65 led the bowling.
Brief scores:
India (1st innings): 537-3 decl (M H Mankad 231, P Roy 173, P R Umrigar 79*)
New Zealand (1st innings): 209 all out (B Sutcliffe 47, S P Gupte 5-72)
New Zealand (2nd innings): 219 all out (J R Reid 63, J G Leggat 61, S P Gupte 4-73, M H Mankad 4-65)
Result: India won by an innings and 109 runs
Series result: India won 2-0
---
Top batting performances for India:
| | | | | | | | | | |
| --- | --- | --- | --- | --- | --- | --- | --- | --- | --- |
| Batsman | M | Inn | NO | Runs | 50s | 100s | HS | Ave | Ct |
| M H Mankad | 4 | 5 | - | 526 | - | 2 | 231 | 105.20 | 4 |
| V L Manjrekar | 5 | 6 | 1 | 386 | 1 | 2 | 177 | 77.20 | 2 |
| P R Umrigar | 5 | 6 | 1 | 351 | 1 | 1 | 223 | 70.20 | 8 |
| Pankaj Roy | 3 | 4 | - | 301 | - | 2 | 173 | 75.25 | - |
| G S Ramchand | 5 | 6 | 2 | 234 | 1 | 1 | 106* | 58.50 | 1 |
| A G Kripal Singh | 4 | 3 | 1 | 199 | 1 | 1 | 100* | 99.50 | 1 |
For New Zealand:
| | | | | | | | | | |
| --- | --- | --- | --- | --- | --- | --- | --- | --- | --- |
| Batsman | M | Inn | NO | Runs | 50s | 100s | HS | Ave | Ct |
| B Sutcliffe | 5 | 9 | 2 | 611 | 1 | 2 | 230* | 87.29 | 1 |
| J R Reid | 5 | 9 | 2 | 493 | 2 | 2 | 120 | 70.43 | 1 |
| J G Leggat | 3 | 6 | 1 | 194 | 2 | - | 61 | 38.80 | - |
| J W Guy | 5 | 10 | 1 | 313 | 2 | 1 | 102 | 34.78 | - |
| A R MacGibbon | 5 | 7 | 1 | 173 | 1 | - | 59 | 28.83 | 3 |
Top bowling performances for India:
| | | | | | | | | | |
| --- | --- | --- | --- | --- | --- | --- | --- | --- | --- |
| Bowler | O | M | R | W | 5W/I | Best | Avg | RPO | S/R |
| S P Gupte | 356.4 | 152 | 669 | 34 | 4 | 7-128 | 19.68 | 1.88 | 62.94 |
| M H Mankad | 167.1 | 66 | 329 | 12 | - | 4-65 | 27.42 | 1.97 | 83.58 |
| D G Phadkar | 153 | 57 | 261 | 6 | - | 2-11 | 43.50 | 1.71 | 153.00 |
| G S Ramchand | 162 | 72 | 276 | 5 | - | 2-48 | 55.20 | 1.70 | 194.40 |
| J M Patel | 63 | 30 | 91 | 4 | - | 3-63 | 22.75 | 1.44 | 94.50 |
For New Zealand:
| | | | | | | | | | |
| --- | --- | --- | --- | --- | --- | --- | --- | --- | --- |
| Bowler | O | M | R | W | 5W/I | Best | Avg | RPO | S/R |
| J A Hayes | 171 | 27 | 474 | 10 | - | 3-91 | 47.40 | 2.77 | 102.60 |
| H B Cave | 254 | 119 | 412 | 7 | - | 3-77 | 58.86 | 1.62 | 217.71 |
| A R MacGibbon | 210 | 65 | 495 | 7 | - | 2-56 | 70.71 | 2.36 | 180.00 |
| J R Reid | 128 | 50 | 271 | 6 | - | 3-19 | 45.17 | 2.12 | 128.00 |
| M B Poore | 74 | 14 | 206 | 4 | - | 2-48 | 51.50 | 2.78 | 111.00 |