Reader Vishant Bhatia sent us these pictures from Kingston.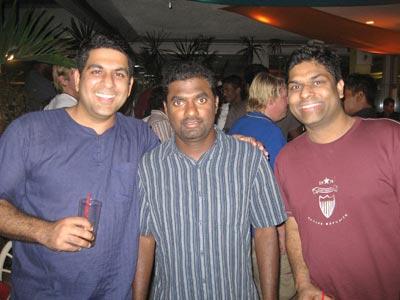 'I wanted to share some pictures that my friends and I took during our trip to Kingston to see the World Cup semi-finals between Sri Lanka and New Zealand.
'The pictures with the New Zealand players were taken the night before the game. The pictures with the Sri Lankan players were taken after SL had won the semi-final,' writes Vishant.
'We were really impressed by how approachable and down-to-earth the Sri Lankan players were, especially Mahela Jayawardene, who had won the man of the match for his wonderful innings in the semis. 
'Even though the team was celebrating victory by the pool-side bar, at the Jamaica Pegasus, they took time to talk to fans, sign autographs and pose for pictures. Despite the loss the NZ team seemed to be taking it well and were in good spirits (no pun intended!)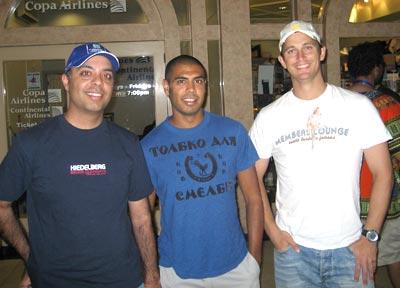 'We had a great time in Kingston and wanted to share a few of those moments with rediff and its readers.'
Images:
1st pic: Vishant (blue shirt) and Mallick (red shirt) with Muttiah Muralitharan
2nd pic: Praveen with Shane Bond and Jeetan Patel
3rd pic: Vishant and Mallick with Scott Styris
4th pic: Mallick, Vishant and Praveen with Mahela Jayawardene
Thank you, Vishant, for sending these photographs!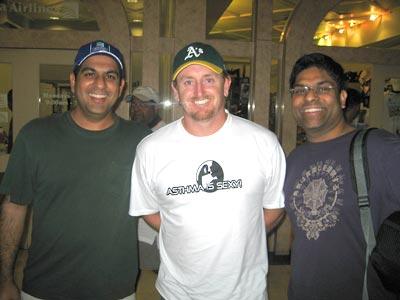 If you encounter your favourite cricket/sports personalities, please mail the photograph or video to sportsdesk@rediff.co.in. We will feature the best images or videos right here on Rediff Cricket or Rediff Sports.
Also see: More Reader photographs