The Board of Control for Cricket in India's president-in-exile, Narayanswami Srinivasan, has requested the Supreme Court to allow him to contest the Board's elections, scheduled to be held next week.
- SC proposes high-powered committee to cleanse Indian cricket

He gave an undertaking in the Supreme Court that he will stay out of matters related to the Indian Premier League if elected BCCI president till he gets clean chit in the matter.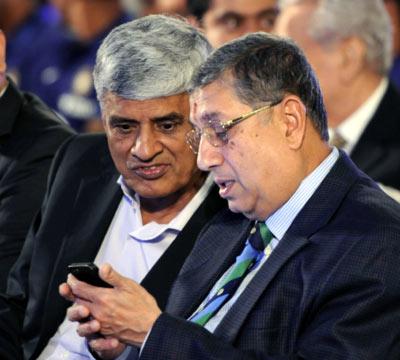 Appearing before a bench, headed by Justice T S Thakur, senior advocate Kapil Sibal said his client, Srinivasan, is giving an undertaking that he will keep himself disassociated with IPL matters till he is given a clean chit by the proposed high powered panel.
The BCCI, however, opposed setting up of the high powered committee to look into the matter regarding Srinivasan's conflict of interest and punishment to be meted out on the basis of the Mudgal committee report.
Senior advocate C A Sundaram, appearing for the Board, said it would affect its autonomy and any decision in this regard, if required, must be decided by the governing body of the Board.
The apex court also expressed concern over circket being hit by the betting and spot-fixing scandal.
"Game of cricket will collapse if people's confidence in the sport is not restored and preserved," it said.
The BCCI's much-delayed Annual General Meeting will be held on December 17 in Chennai, where a new president will be elected.
It is widely believed that Srinivasan will retain the president's post if he is allowed to contest the elections, since no one is likely to stand against him.
- IPL spot-fixing saga

The Supreme Court last month had proposed that the BCCI elections can take place on December 17, but those named in the Justice Mudgal Commission report, which probed the betting and spot-fixing in the sixth edition of IPL in 2013, must be kept out.
The BCCI elections were originally scheduled to be held in September before they were postponed to December 17 in view of the Mudgal Committee probe.

The Supreme Court on Tuesday said maintaining the "purity" of cricket is of utmost importance for it, while hinting at setting up a high-powered committee to suggest measures to cleanse the game in the country.

"That committee has to be a high-powered committee and that committee will also look into the conflict of interest and its findings will be binding on BCCI," a bench of justices T S Thakur and F M I Kalifulla observed while hinting that the committee would comprise retired judges.

The apex court took exception to Srinivasan attending the Tamil Nadu Cricket Association's meeting in November after he had voluntarily stepped aside as cricket administrator, forcing him to admit that it was mistake on his part.

The apex court had earlier observed that it is very difficult to accept Srinivasan's plea that there is no conflict of interest arising out of owning IPL team Chennai Super Kings and heading the BCCI.
Image: Narayanswami Srinivasan (right) with BCCI secretary Sanjay Patel.
Photograph: BCCI