'I am surprised they are saying they are preparing for South Africa but they are giving these pitches'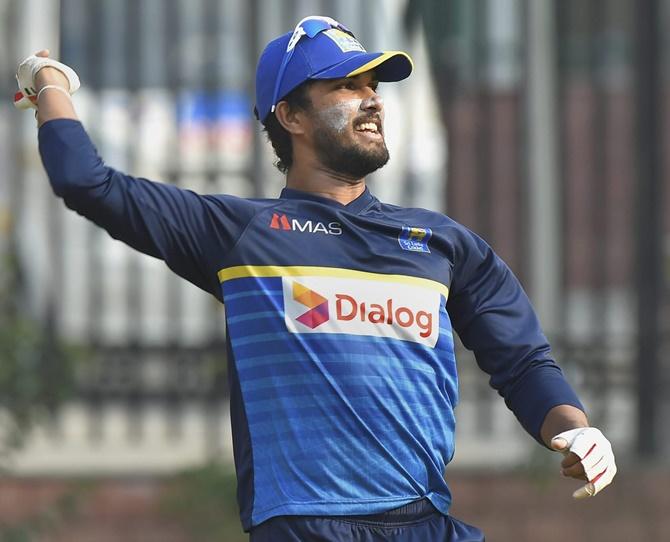 IMAGE: Sri Lanka cricket team captain Dinesh Chandimal during a practice session in New Delhi on Friday. Photograph: Atul Yadav/PTI
"I am not sure they are preparing for South Africa," said Sri Lanka captain Dinesh Chandimal as he took a dig at the Indian team's claims of asking for bouncy tracks in the ongoing Test series to be ready for the tough assignment against the Proteas next month.
Starting from skipper Virat Kohli, each and every Indian player, during interactions with media, spoke about how pitches against Sri Lanka have been prepared keeping the tour of South Africa in mind.
"I am surprised they are saying they are preparing for South Africa but they are giving these pitches," Chandimal's sarcasm was not lost on anyone.
"If you look at the wicket here (Kotla), I am not sure they are preparing for South Africa! It looks like a Nagpur pitch (where 610 runs were scored). The Kolkata pitch was similar to South African pitches but these two are not like that."
When asked if the Sri Lankan team felt disrespected that the discussions were only about South Africa, Chandimal said, "They are thinking about the next series but we as a team are thinking about this series, and we are thinking abut each and every game. About how we can win. We can't control what they think. As a team we can control what we can control."