'It's always a pleasure to come here and challenge ourselves against a very, very good team'
'We are concentrating on our strengths and jobs. If we execute them well, it will be a challenging series'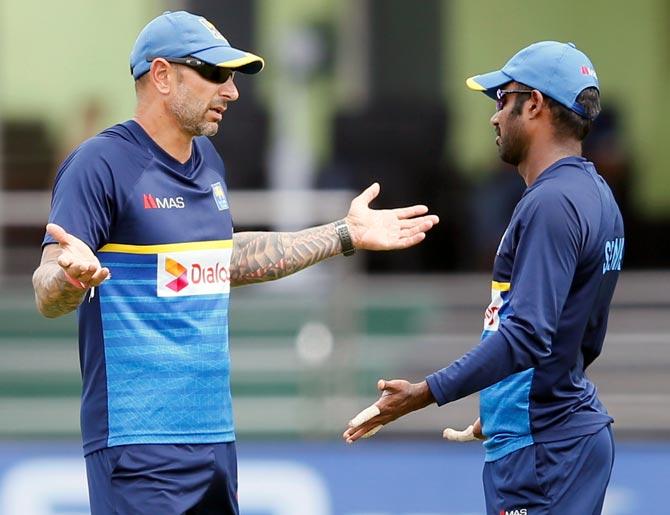 IMAGE: Sri Lanka coach Nic Pothas, left, speaks to Upul Tharanga. Photograph: Dinuka Liyanawatte/Reuters
Sri Lanka head coach Nic Pothas says the recent debacle against India at home has taught them a few lessons and they will not be awestruck by the fancied hosts, united by a culture and discipline.
India had whitewashed Sri Lanka in all formats -- three Tests, five ODIs and one T20I -- when they toured the Island nation in July-September.
"Thanks for reminding us now (the defeats). It's always a pleasure to come here and challenge ourselves against a very, very good team," the South African said.
After their forgettable India tour, Sri Lanka showed character to bounce back and beat Pakistan 2-0 in the UAE in the Test series.
"We learnt how the Indian team does well and the areas we needed to improve."
Asked what changed in such a short span of two months, he said: "It's internal -- the discipline, the culture and how the teams stick together. When we took on India, we were all pretty new from the support staff and the players involved."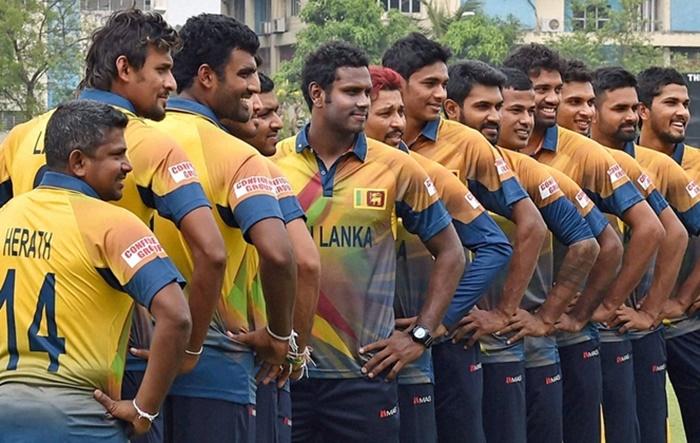 IMAGE: Pothas urges his players to work on their strengths. Photograph: PTI
Stressing the need to focus on their strengths, Pothas urged his players not to get enamoured by India.
"We focus on ourselves. The mistake you can make here is come and be infatuated with the Indian side and concentrating too much on them. We know they are a good side. But we played them months ago.
"We are concentrating on our strengths and jobs. If we execute them well, it will be a challenging series. Not many teams have come here and won. Sometimes you can get hung up on weaknesses. We go the other way and focus on what we do well."
They managed to humble Pakistan in the UAE and the coach said the conditions coupled with Misbah-ul-Haq and Younis Khan's absence made their job easier.
"It was a completely different series against Pakistan. We were there in 41 degrees heat and they had lost two legends. That probably made a little bit easier for us."