"What about csk and Rajasthan", the tainted pacer demands answers from the board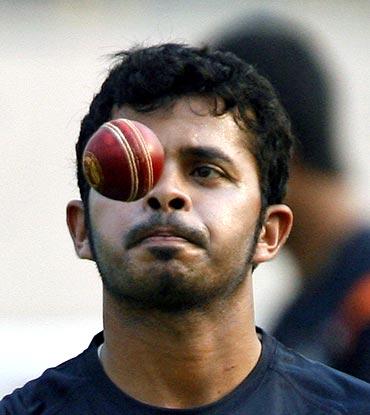 The Board of Control for Cricket in India on Thursday decided to appeal to the Division Bench of Kerala High Court against lifting of life ban on the tainted pacer Shanthakumaran Sreesanth.
Last Monday, a single judge bench of the Kerala High Court had passed an order that the bowler's life-ban be lifted.
Sreesanth was banned for life by the BCCI for his alleged role in the IPL spot-fixing in 2013.
It is learnt that BCCI with zero tolerance on corruption issues, has no sympathy for the pacer, who has represented India in 27 Tests, 53 ODIs and 10 T20 Internationals.
But following the developments, Sreesanth, on Friday took to Twitter to pose tough questions to the Indian cricket board, raising doubts about their intention over ridding the sport of fixing.
"The board is firm on its zero tolerance policy on corruption and match-fixing," he added. @bcci office?? Then what about csk and Rajasthan?," Sreesanth questioned and tagged BCCI in the post.
"C mon @bcci this is worst u can do to anyone that too who is proven innocent not just once but again and again..don't know why u doing this?" he tweeted again, making his frustration over BCCI's attitude towards him, obvious.
The Former India was relieved after the Kerala high court on Monday, August 7, ordered the BCCI to lift the life ban imposed on the cricketer following the spot-fixing scandal in the sixth edition of the Indian Premier League in 2013.
In his order passed on Monday, Justice A Muhamed Mustaque also set aside all proceedings against Sreesanth initiated by the Board of Control for Cricket in India.
The court had earlier sought the BCCI's stand on the plea by the cricketer, challenging the life ban imposed on him by the game's governing body following the 2013 Indian Premier League spot-fixing scandal.
The BCCI had filed a counter-affidavit in the court in response to the plea by Sreesanth, who had challenged the life ban despite a court dropping all charges against the 34-year-old pacer.
Later on Wednesday, the Kerala Cricket Association wrote to the BCCI seeking its decision and directions on cricketer Sreesanth's readiness to make a comeback to competitive cricket.
Image: S Sreesanth
Photograph: Reuters