Tainted Pakistani cricketers Salman Butt and Mohammad Asif have been accused of "deceit, greed and corrupt practice" on the basis of "coincidence, innuendo and guesswork," London's Southwark Crown Court heard during the ongoing spot-fixing case trial.
- Coverage: Match-fixing episode-II
Butt and Asif deny involvement in a "conspiracy to obtain and accept corrupt payments, and also conspiracy to cheat" -- the charges authorised by British prosecutors in connection with allegations that alleged bookmaker Mazhar Majeed accepted money from a third party "to arrange for the players to bowl ''no balls'' on 26 and 27 August 2010, during Pakistan's Fourth Test at Lord's Cricket Ground in London.''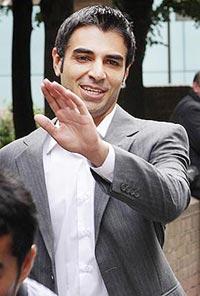 In his defence, Butt's counsel, Ali Bajwa QC, told the jury that the prosecution had "thrown everything it can at its case, tearing apart Butt''s life, but had done so by employing an assumption of guilt".
"We have a fantastic sense of justice in this country. We have a foreigner on trial and it is his good fortune that it is in this country. All manner of cases are based upon innuendo, pressure and assumption [and] so much has been thrown at you with coincidence, innuendo, guesswork," The Guardian quoted Bajwa, as saying.
"But we are asking you to uphold the proud tradition of juries. There simply is not enough evidence to give a true verdict to say he [Salman Butt] is guilty," he added.
Chief prosecutor Aftab Jafferjee QC, however, pointed to 13 "facts" that, he told the court, prove the guilt of defendants Butt and Asif.
Chief among them were the facts that Asif had delivered a no-ball at precisely the time predicted by Majeed, and that Mohammad Aamir, another Pakistan bowler, had done the same.
At the time Butt was Pakistan captain and the arbiter of when the bowlers would bowl. Added to this, were what Jafferjee referred to as a "telling triangulation" of telephone traffic between Majeed and the two players on trial, the report said.
Bajwa did not seek to deny that a conspiracy had taken place, only that Butt had not been part of it. "There is no dispute in this case that there was at the very minimum a fix between Majeed and Amir," he said.
The trial continues.