Former Pakistan Test captain Salman Butt and his two opening bowlers Muhammad Amir and Mohammad Asif face lengthy bans if they are found guilty of corruption at a hearing starting in Doha on Thursday.
The International Cricket Council (ICC) suspended the trio on September 2 after a British Sunday newspaper report alleged they had been guilty of spot-fixing by taking bribes to arrange for deliberate no-balls to be delivered in the fourth Test against England last August.
Spot-fixing is the illegal practice of pre-determining individual incidents in a match which may not affect the result but can allow gamblers or bookmakers to make large sums of money.
British lawyer Michael Beloff will chair an independent three-man tribunal convened by the ICC which includes Justice Albie Sachs from South Africa and Sharad Rao from Kenya.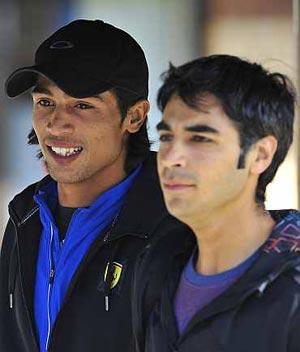 Beloff rejected appeals by Butt and Amir against the provisional suspension and in December turned down an application from Butt's legal representation for an adjournment of the full hearing.
All the players have denied any involvement in spot-fixing.
AFRIDI SUMMONED
Significantly, the Pakistan Cricket Board (PCB) is not backing the trio and sources in Pakistan said Butt could face the heaviest ban.
They said Butt's defence was weakened by the fact that they had already changed his lawyers twice while Amir and Asif would argue that they were following instructions because they feared they would be dropped otherwise.
"The indications are that Butt will get a long ban while Asif and Amir may escape with shorter ones, like two-year bans each," one source said.
Amir will be represented by Pakistani lawyer Shahid Karim, Butt by British lawyer Yasin Patel and Asif by English barrister Alan Cameron, the brother of British Prime Minister David Cameron.
Pakistan One-day captain Shahid Afridi and head coach Waqar Younis have been summoned as witnesses to the tribunal. Butt took over from Afridi as Test captain after he unexpectedly resigned following the first Test against Australia at Lord's last year.
The Pakistan team are currently touring New Zealand and the PCB said they would either attend in person or via a teleconference.
At a media briefing on Wednesday, Beloff said the hearing would conclude either on or before January 11.
"As you will appreciate, this matter is effectively subjudice. In such circumstances it is inappropriate that any member of the tribunal comment further, and for that reason there will be no questions," he said.