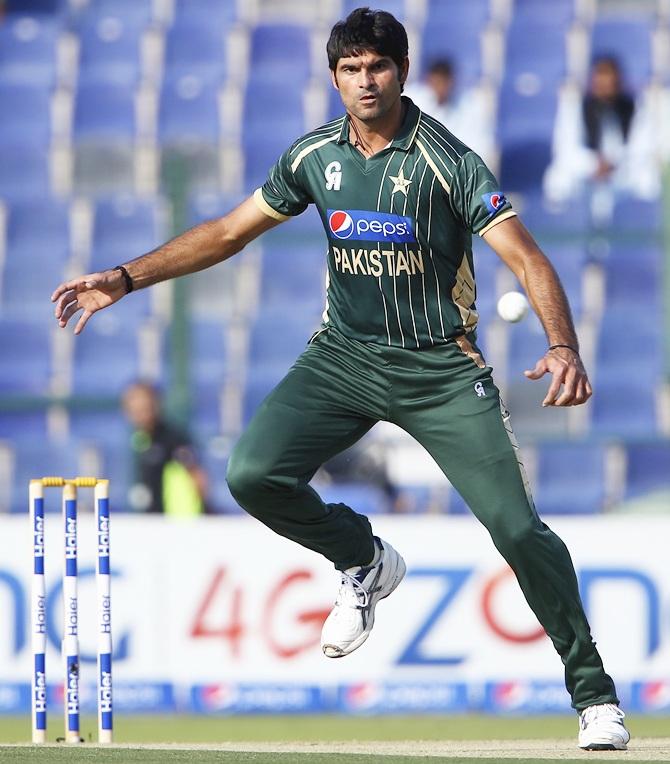 IMAGE: Mohammad Irfan has been charged with two violations. Photograph: Francois Nel/Getty Images
Pacer Mohammad Irfan was, on Tuesday, suspended by the Pakistan Cricket Board for being in touch with a suspected bookmaker, making him the third player to be charged in the ongoing probe of alleged corruption in the Pakistan Super League.
"The Pakistan Cricket Board in furtherance to its investigation into potential corrupt practices has today issued a Notice of Charge to Mohammad Irfan under the PCB Anti-Corruption Code," the PCB said in a statement.
"Irfan has been charged with two violations of Code Article 2.4.4 and now has 14 days to respond to the Notice of Charge. He has also been provisionally suspended with immediate effect from participating in all forms of cricket," it added.
He is the third Pakistani player to be suspended under the anti-corruption code following the PCB's decision to send back batsmen Sharjeel Khan and Khalid Latif from Dubai on the second day of the Pakistan Super League (PSL). They were also provisionally suspended under the anti-corruption laws.
Irfan appeared before the PCB's Anti-Corruption Unit (ACU) and top legal expert yesterday in Lahore and according to sources in the board, he admitted to meeting with a suspected bookie who asked him to spot fix in matches.
Irfan, 34, has played four Tests, 60 ODIs and 20 T20 internationals in his career, which has been plagued by issues due to his tall demeanour.
Irfan has denied accepting any offer but conceded that he did not report the matter to the Board. Irfan claimed that he was under great mental stress due to the death of his mother in the last three months.
He has also denied getting any offer to fix matches in the Pakistan Super League. The other suspended players have also denied charges of wrongdoing and a tribunal has been set up to decide their fate.