The investigation into the spot-fixing scandal involving three Pakistan cricketers has gathered pace with the Metropolitan Police scheduled to meet the Crown Prosecution Service this week to discuss whether charges can be levelled against the suspended trio.
According to a report in the Daily Telegraph in London, this week's discussion between the Metropolitan Police and Crown Prosecution Service will determine whether further investigation is required in the case or the investigators have enough evidence to nail Salman Butt and pace duo of Mohammad Asif and Mohammad Amir.
The London police has already submitted a second file of evidence to the Crown Prosecution Service.
The Metropolitan Police had launched the investigation in September after the cricketers were implicated in a spot-fixing sting carried out by British tabloid News of the World, with Aamer and Asif allegedly bowling no-balls during the Lord's Test on the orders of bookie Mazhar Majeed.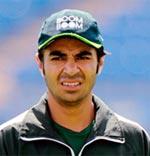 Majeed was arrested, while the players were questioned under caution by the police and allowed to leave the country after giving an undertaking that they would return to face further questions if required.
The Scotland Yard is also carrying out a separate investigation into the case and has spoken to the three players and Majeed.
The International Cricket Council's code of conduct commission had also rejected appeals by Butt and Aamer against their suspensions. The next stage will be a hearing by the anti-corruption tribunal into details of the fixing case.
Asif, however, had withdrawn his appeal.