Disgraced Pakistani cricketers Salman Butt and Mohammad Asif lost their cases at the Court of Arbitration for Sport in Lausanne on Wednesday, the world's top sports tribunal dismissing their appeals against the bans imposed on them in 2011 by the ICC on spot-fixing charges.
Former captain Butt and fast bowler Asif were handed bans of 10 and seven years respectively by the ICC for accepting corrupt payments over deliberate no-balls bowled during the Lord's Test between Pakistan and England in August 2010.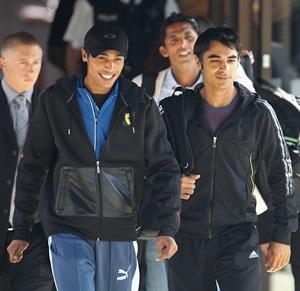 Both were found guilty by London's Southwark Crown Court in November 2011 on charges of conspiracy to cheat and conspiracy to accept corrupt payments.
Another player, fast bowler Mohammad Amir was also banned for five years by the ICC on the same charges but he did not contest the decision.
"The CAS has dismissed the appeals filed by the Pakistani cricket players Mohammad Asif and Salman Butt against the decisions taken by International Cricket Council Tribunal on 5 February 2011 in which Mr Asif received seven years ineligibility (two suspended) and Mr Butt ten years (five suspended) following an investigation into spot-fixing in
relation to 'no balls' bowled during a Test Match played in London in 2010," the CAS said in a statement.
Sky Sports and the BBC quoted a press release issued by Butt's lawyers as saying he was "bitterly disappointed" with the CAS decision but would continue to fight to clear his name.
"In the coming days and weeks, we will be exploring every other available avenue," said a member of Butt's legal team.
"Salman has been in a very dark place over the last few years and he was hoping that he would be successful in this appeal," added legal advisor Amer Rahman.
Photograph: Getty Images