'I don't regret anything in life. What does not kill you makes you stronger'
As India gear up to take on England in the limited overs series, Dhoni, who addressed his first press conference on Friday, since stepping down, backed the Indian team to taste more success under Virat Kohli's leadership.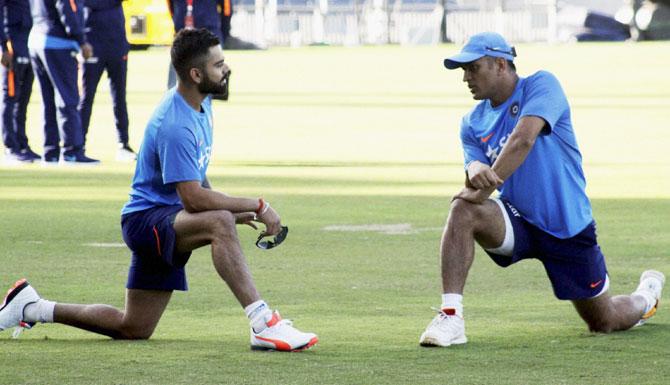 IMAGE: Virat Kohli and Mahendra Singh Dhoni during a practice session in Pune on Wednesday. Photograph: PTI
Former India captain Mahendra Singh Dhoni, who stepped down as captain of India XI in the limited overs version of the game on January 4, said he was of the belief that split captaincy would never work in Indian cricket.
"In my mind the last series was the South African series in India. After that it's pretty easy to judge why I went to Zimbabwe and all of that and because of all that finally I told BCCI officially that I won't be captaining anymore.
'I'm somebody who believes, in our scenario, split captaincy is something that doesn't really work. It's not something that I had a view upon right now, it's something I always believed in, that with the Indian team one captainship (sic), one player leading the team in all the formats is very crucial. Virat was always ready to take over. I thought it was the right time to give Virat the job," Dhoni said, addressing his first press conference on Friday since stepping down.
When asked about the timing of his decision, Dhoni asserted that did not make any sense for him to continue till the Champions Trophy as it would only add to his numbers as captain and not serve the team's cause.
"It made no sense for me to continue. People even questioned me when I quit midway through the Test series in Australia. Sometimes you need to look at the bigger picture. I knew Saha was ready and he deserved a chance. Similarly, Virat is well placed to take over the limited overs captaincy," Dhoni said.
"I was waiting for right time, was waiting for Virat to ease in into the Test format," he said.
"Limited overs captaincy is not a big challenge and Virat is ready for it now. Limited over captaincy is not a big challenge and this was the time I finally decided, it was the time to move on and give Virat the full captainship," he added.
On his relationship with captain Virat Kohli, Dhoni said: "Virat and I have always been close. Virat always wants to contribute. Virat always wanted to improve and that is why he is so successful. Will share my inputs with Virat. Virat has the clarity to refuse advice.
"With so many games I feel Virat is right there. It is the right time," he said about his successor.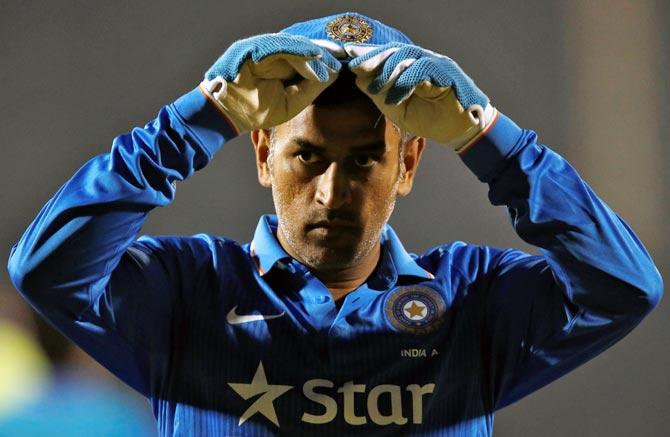 IMAGE: Mahendra Singh Dhoni says he does not regret anything in life. Photograph: Danish Siddiqui/Reuters
Dhoni also backs Kohli to lead India to more success than he ever did.
"If it's the numbers I think Virat and his team will win more games than me in all the formats.
When it comes to taking cricket the way its supposed to be played the whole pool of players they seem the ones to play cricket in the right spirit, the way it is supposed to be played. It doesn't seem as if they are few individuals who are going to break the laws and all of that -- when it comes to playing on the field, how we are supposed to conduct ourselves on the field. Both ways are covered and I feel it will be the most successful Indian cricket team ever," Dhoni added.
The wicket-keeper batsman, who made his ODI debut in December 2004 against Bangladesh in Chittagong, also said a lot of things did change since the time he took over the captaincy in 2007 to now.
"The requirement of the team has changed as well. No fixed batting order for me. The guys at the top did remarkably. I will change my role as per the responsibilities given to me. Depending on where I am batting, I will bat accordingly," Dhoni said.
The swashbuckling right-handed batsman, who is well known for his calm and composed character, also said he doesn't regret anything in his life.
"I don't regret anything in life. What does not kill you makes you stronger. Overall, it has been a journey for me right from when I started," he said.
"Overall it was a journey that I really enjoyed, it brings smile on my face irrespective of whether it was a tough or good period."
The three match ODI series begins on January 15 in Pune followed by matches at January 19 and January 22 at Cuttack and Kolkata respectively.
The two teams will then lock horns in the T20 series starting on January 26 at Kanpur, followed by games on January 29 and February 1 at Nagpur and Bengaluru respectively.