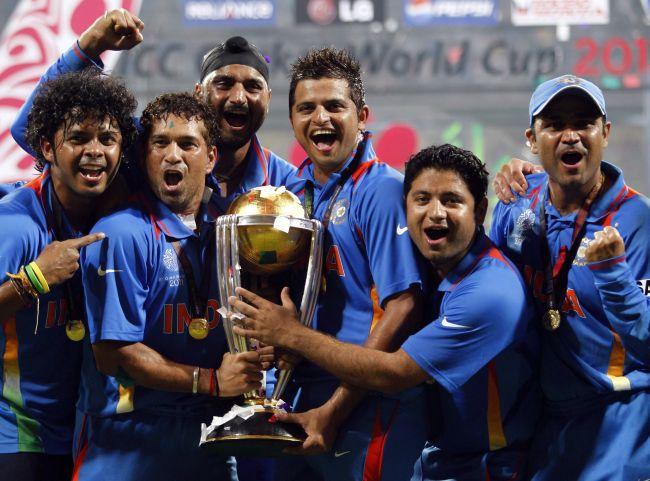 Sachin Tendulkar celebrates with his team mates after winning the 2011 World Cup in Mumbai. Photograph: Adnan Abidi/Reuters
Batting legend Sachin Tendulkar picked India as one of the top contenders to win the 50-overs World Cup to be played in Australia-New Zealand next year.
- Playing It my Way: Buy the book right here on Rediff

Tendulkar, who was part of India's World Cup winning squad in 2011, believes spinners will play a part during the tournament which starts in February.

"I feel India can surprise a lot of people and I also believe the spinners will come into play," he said at the launch of his autobiography, Playing It My Way, at Lord's Cricket Ground in London on Friday.

"People talk about the pitches for fast bowlers but because of the size of the grounds, I think spinners could be important," he added.

Tendulkar, who retired from cricket in November 2013, also picked hosts Australia and New Zealand along with New Zealand are the other three semi-finalists.

"I think Australia, South Africa, New Zealand are dark horses, and India - these four should be my semi-finalists," he added.

He, however, ruled out England's chances. "Anything is possible in this sport but going on current form I don't think England will be that competitive."