For any cricket team touring India it is the art of mastering the conditions that ultimately makes the difference between winning and losing.
South Africa did manage to stun India in 1999-00, but they then had an attack, comprising the lightning fast Allan Donald, the swinging genius of Shaun Pollock and the never-say-die spirit of left-arm spinner Nicky Boje, all capable of delivering in any conditions.
This time too they boast of a fiery pace attack, but it remains to be seen whether it can deliver on the slow and low Indian pitches. The in-form Dale Steyn will no doubt be the bowler to watch out after impressive outings against New Zealand and Bangladesh, while Makhaya Ntini continues to be a threat. Morne Morkel and Monde Zondeki too will be hoping to catch some attention with impressive performances in the hot and humid conditions of Chennai.
Captain Graeme Smith was quick to concede that it would not be easy pitting his bowlers against the star-studded Indian batting line-up on pitches expected to suit the hosts.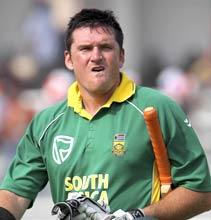 "In fairness, India are one of the most experienced teams in world cricket now. They have a team that is well-balanced, a team that has been around for a number of years. There are a lot of impressive names in that line-up. For all of us coming out to India, it is a wonderful opportunity to face conditions, the best team in the world. And I believe we can," he said in Chennai on Tuesday, the eve of the first Test.
Smith revealed how comments from some of the Indian players have fired up fast bowler Steyn going into the opening Test.
"The thing about Dale is he is really motivated. And one or two Indian batsmen have made comments about him that have motivated him a bit more."
He also underlined the support Steyn has received from the other fast bowlers as South Africa conquered one team after another in the last couple of years.
"Our whole attack has done well, allowed Steyn to bowl the way he does. We have spoken of game plans and that is what he is focused about. He is focused about how to get people out and what he needs to do to do well here. That is what I have spent time as a captain doing -- making sure he's comfortable and being prepared to go into a Test match," Smith said of his premier fast bowler, who is expected to exploit India's weakness against the short, rising deliveries.
India's reputation was enhanced big time after the showing in Australia when they shocked the World champions at Perth. Despite losing the series 2-1, India came back as the second best team in the world and are increasingly looking the only team capable of toppling the Aussies from the top spot in the rankings.
But South Africa are not far behind either in terms of achievements. Last month they ousted Australia from the top spot in one-dayers and are now keen to get on their trail in Tests, but for that they need to beat India and snatch second place.
It has not been all smooth sailing for the Proteas though, with controversies surrounding the selection of the team for the three-Test series. Pacer Andre Nel was shockingly omitted from the squad to fulfill the quota of having a minimum of six non-white players.
Despite all that Smith says his team is unperturbed.
"Getting on the plane and coming here has been a bonus for us, getting away as much as we can [from the controversy]. Most of us are focused on getting prepared for this Test. We have been focused on planning and preparing. As a team we have dealt with it in a mature manner. It's sad and difficult to keep all these things behind but the guys are mature enough to control that."
South Africa come into this series on the back of a good run in Tests. They are unbeaten since their last six series dating back to December 2006, including series victories in Pakistan and Bangladesh.
"I think you got to have the team capable of winning series away from home and I believe we have the team. We have enough experience now; obviously [there are] some young guys who've come to India for the first time but [they] really exciting prospects. So it will be interesting to see how they go. We are a confident team at the moment," Smith said.
He believes that they would derive inspiration from their victory over the Indians in South Africa in 2006-07.
"For us, we are just focused on how to beat India. That has been our focus since we have arrived. I am pretty comfortable at where we are at the moment. I think it was a year-and-a-half ago that we beat India in South Africa in a hard-fought series. We are pretty comfortable about how to go about things. So you just got to make things happen for yourself here," he added.
The South African captain also sought to fuel the fire in the reported senior-junior divide in the Indian camp.
"This Indian team is one of the better teams they have had. They have very experienced, wonderful players, a lot of them trying to come out and prove some things. There has been a lot of talk of youth and experience in India at the moment," he said.
He believes the scorching heat in Chennai coupled with the humidity would prove to be a big factor.
"Chennai generally is a pretty hot place; we knew it was going to be warm. I am sure it is going to spin at some stage. I have had a look at it again now. Obviously for us, for both teams, it's the heat. How we manage through the next five days is going to be crucial. I am pretty sure the heat is going to be a factor at some stage in this game," quipped the 27-year-old.
Smith is the youngest ever player to captain South Africa, taking over the reins at the tender age of 22 from Shaun Pollock following their first-round exit from the 2003 World Cup. He has since captained South Africa in 55 Test matches, winning 26 of them and has, more importantly, made important contributions with the bat at the top of the order.
"One of the toughest jobs around is to open the batting and captain. I am feeling good with the bat, had a really good run this season. I would just like to make that count in this series. Obviously, the personal goals for me is more situation-oriented; you would like to make a huge amount of runs in the series and I am no different," he said.
He stressed that the team has plans in place for every Indian batsmen and it is now the question of executing it in the match.
"We have got our game plans for each batter, general game plan as well. They come in huge reputations but it's not our job to worry about that. It is our job to win the series, and to do that we will need to dismiss them in each Test match. It is about executing it right."