BCCI and Royals to wait for ICC verdict on Smith: Shukla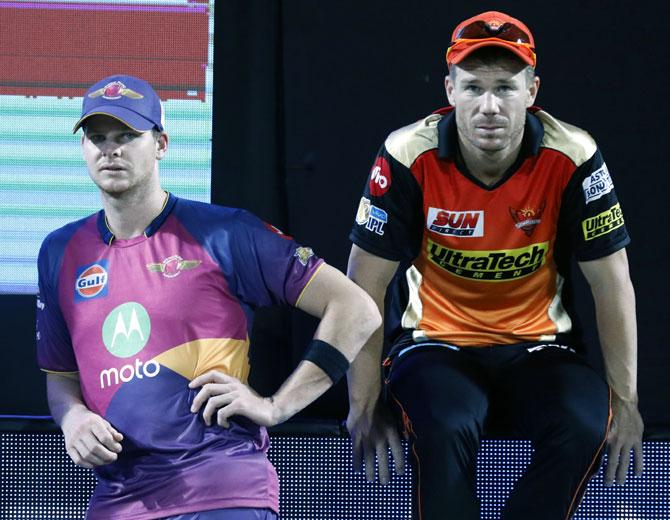 IMAGE: David Warner, right, with Australia captain Steve Smith. Photograph: BCCI
The Board of Control for Cricket in India and Indian Premier League played the waiting game as Steve Smith received sanctions from the International Cricket Council for masterminding a premeditated plan to indulge in ball tampering, which, among others, prompted even Australia's prime minister to react and a long-retired captain to mull a comeback.
Australia captain Smith was, on Sunday, handed a one-match suspension and fined 100 per cent of his match fee after he owned up to a ball-tampering conspiracy in South Africa on the third day of the third Test, sparking a Cricket Australia probe and leading to his ouster from the top job.
Opener Cameron Bancroft has been fined 75 per cent of his match fee and handed three demerit points for breaching Level 2 of the ICC Code of Conduct during the third day's play.
The incident that led to the charges being laid took place during South Africa's innings on Saturday afternoon when Bancroft was seen on television holding a foreign object while rubbing the ball, before hiding the yellow object in his pocket, then inside his trousers.
The scandal gave way to speculations that the Indian Premier League franchises Rajasthan Royals and Sunrisers Hyderabad could sack Steve Smith and David Warner (also said to be involved in the conspiracy) as their respective captains.
When asked IPL chairman Rajeev Shukla said, "The BCCI and Rajasthan Royals will like to wait. As of now, no decision will be taken either by the board or the franchise. Smith is an important player for Royals and is their skipper. It's only fair that they wait."
The administrator, though, added this was a "matter of serious concern for all of us".
While Warner's franchise Sunrisers Hyderabad did not not issue any statement, Smith's team Rajasthan Royals commented on the issue.
"We have been made aware of the controversy of ball tampering in the ongoing Australia-South Africa series and await further instructions from BCCI, before we make any announcement," said Ranjit Barthakur, executive chairman of Royals, in a statement.
"We at Rajasthan Royals will not tolerate any actions that are unfair by definition and bring disrepute to the game of cricket. Our Zero tolerance policy applies to everyone in our team. Please bear with us."
Television footage showed Smith's teammate Bancroft, 25, taking a yellow object (sandpaper to scruff up one side of the ball to aid reverse swing) out of his pocket while fielding in the post-lunch session and appearing to rub it on the ball before putting the material into his trousers in an attempt to hide it.
The complicity of the top players attracted widespread condemnation from the global cricket fraternity, with former Australian legends including Allan Border and Shane Warne lambasting Smith for his dishonest approach and getting a junior on the firing line.
Hours after Cricket Australia said it would investigate the actions of the Australian team's leadership in relation to the ball-tampering confession, the country's government asked the board to remove Smith as captain. Prime Minister Malcolm Turnbull also called the incident a 'shocking disappointment'.
Earlier, Michael Clarke kept open the possibility of return as Australia captain.
Clarke, 36, retired in 2015 after his 115th and final Test of the Ashes series against England.
When quizzed whether he would assume the captaincy again if asked, Clarke said: "If I was asked by the right people, then I would think about my answer."
He was emotional about the scandal, expressing sympathy for Smith and his teammates but also slamming the incident as 'blatant cheating'.
Boos greeted Australia when stand-in captain Tim Paine led the team out at the start of play against South Africa.