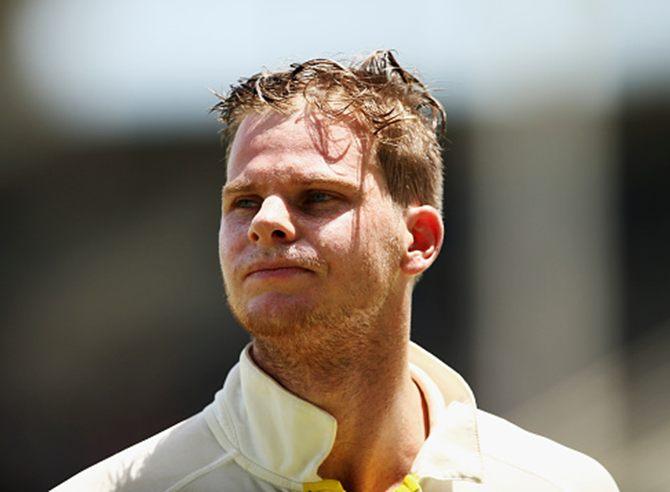 Australia's Steve Smith walks back dejected after being dismissed by Jerome Taylor of the West Indies for 199 runs during Day 2 of the second Test. Photograph: Ryan Pierse/Getty Images
Australia moved towards another massive victory over the West Indies on the second day of the second Test in Jamaica on Friday after the hosts collapsed for the third time in as many innings.
After Australia scored 399 in a first innings highlighted by a knock of 199 by Steve Smith, West Indies were left reeling at 143 for eight in reply, 256 runs behind and facing the prospect of having to follow-on on Saturday.
Off-spinner Nathan Lyon and fast bowler Josh Hazlewood both took three wickets in a balanced Australian attack, while Jermaine Blackwood scored 51 for the home team.
But the day belonged to Australian number three batsman Smith, who fell one run short of his double century when he was adjudged lbw off the bowling of Jerome Taylor after lunch.
The batsman indicated that he got an edge with his bat but, with no hot-spot technology available, the video evidence was inconclusive and the umpire's decision stood.
Smith was only the eighth batsman in Test history to be out for 199, and the first since 2008.
He has notched five centuries in his past six tests, and improved his career batting average to more than 55.
Though the 26-year-old narrowly failed to become the third Australian to score a double-century at Sabina Park, it was his highest Test score and put his team in a commanding position to sweep the two-Test series, after a nine-wicket win last week.
Fast bowler Taylor was easily the pick of the West Indies attack, finishing with career-best figures of 6-47 off 25 impressive overs.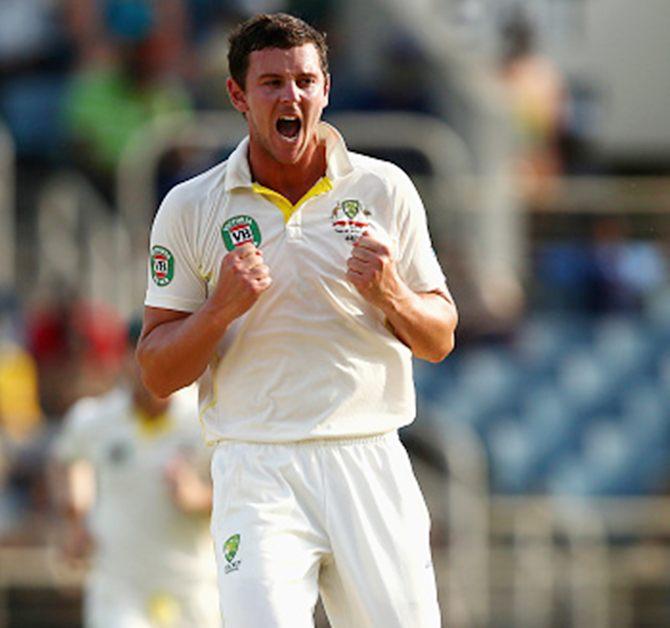 Australia pacer Josh Hazlewood celebrates after taking the wicket of Denesh Ramdin of the West Indies. Photograph: Ryan Pierse/Getty Images
The West Indies fielding was also average. They dropped a couple of catches and a missed stumping did not help the cause.
The home team then plumbed new depths of misery with an inept batting display as the wickets tumbled quickly, notwithstanding the strong Australian attack.
Only Blackwood (51) and Shai Hope (26) made more than 14 runs.
"It was a decent knock but I was a bit disappointed the way I got out," Blackwood told the host broadcaster after dishing up an easy catch to mid-off.
Lyon, meanwhile, was 'very happy' with his figures of 3-35.
"I really enjoyed my time bowling," he said.
"There's enough (in the pitch) if you put the ball in the right area and have patience."
Scorecard
Australia (1st innings): (Overnight: 258-4)
D. Warner c Hope b Taylor 0
S. Marsh lbw b Taylor 11
S. Smith lbw b Taylor 199
M. Clarke c Ramdin b Holder 47
A. Voges c Ramdin b Taylor 37
S. Watson b Taylor 25
B. Haddin b Taylor 22
M. Johnson c Da. Bravo b Roach 5
M. Starc b Holder 6
J. Hazlewood c Blackwood b Permaul 24
N. Lyon not out 5
Extras: (b-5 lb-7 nb-6) 18
Total: (all out, 126.5 overs) 399
Fall of wickets: 1-0, 2-16, 3-134, 4-210, 5-264, 6-296, 7-306, 8-330, 9-393, 10-399
Bowling: J. Taylor 25-10-47-6(nb-2), K. Roach 25-2-113-1(nb-4), J. Holder 22-3-64-2, V. Permaul 34.5-7-124-1, K. Brathwaite 19-2-39-0, J. Blackwood 1-1-0-0.
West Indies (1st innings):
K. Brathwaite b Lyon 4
R. Chandrika c Haddin b Starc 0
Da. Bravo lbw b Lyon 14
S. Dowrich c Haddin b Hazlewood 13
S. Hope c Haddin b Lyon 26
J. Blackwood c Warner b Hazlewood 51
D. Ramdin lbw b Hazlewood 8
J. Holder not out 13
V. Permaul c Haddin b Johnson 0
Extras: (b-6, lb-1, nb-1, w-1 pen-5) 14
Total: (for 8 wickets, 47 overs) 143
Fall of wickets: 1-1, 2-9, 3-25, 4-44, 5-77, 6-119, 7-142, 8-143
To bat: J. Taylor, K. Roach
Bowling: M. Starc 12-2-33- 1(w-1), J. Hazlewood 11-7-15-3, N. Lyon 12-4-35-3, M. Johnson 10-1-38-1(nb-1), S. Watson 2-0-10-0.