Dilshan tops with 800 points
Srinivas Bhogle and Purnendu Maji
Srinivas Bhogle and Purnendu Maji reveal why the Sri Lankan opener is ahead of the other stars at this World Cup.
Sometimes we are defeated by semantics. How should we define 'valuable'?
If cold numbers alone could define value, then Sri Lanka's Tillakaratne Dilshan was the 'most valuable player' of the 2011 World Cup with a MVPI of 800.
But it was Yuvraj Singh, with a MVPI of 767, who was picked as the 'Player of the Tournament.' And rightly so -- you add real value by winning the World Cup, not by maximising the sum of your batting, bowling and fielding points!
Image:
Tillakaratne Dilshan
Photographs:
Getty Images
MVP Index favours all-rounders
Still it is a pleasure to report that the MVPI (Most Valuable Player Index) performed well.
The key to MVPI's success is to correctly guess the average innings score in the tournament. We guessed 250, which was almost perfect especially after S Rajesh of Cricinfo confirms that the average strike rate in the just concluded 2011 World Cup was 5.03.
The MVPI favours all-rounders because they can amass both batting and bowling points. It is therefore no surprise to see that the top three players in the list are all-rounders.
Dilshan is a batting all-rounder, Shahid Afridi is now a bowling all-rounder and Yuvraj is the most 'rounded' all-rounder.
Image:
Yuvraj Singh celebrates with his Man of the Tournament trophy
Photographs:
Reuters
Sachin, Zaheer have performed exceptionally too
If single-skill players appear high on the list, it means that they have performed outstandingly well.
Zaheer Khan has indeed bowled exceptionally, while Sachin Tendulkar has batted only as well as he can.
The table below shows the 50 most valuable performers in World Cup 2011.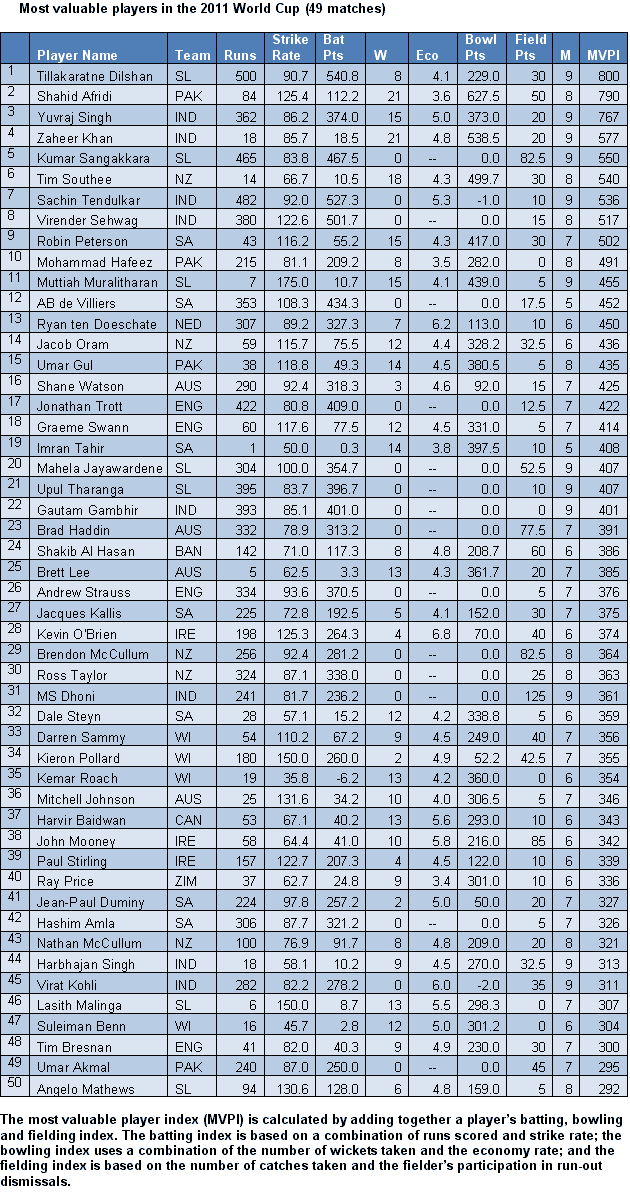 Image:
Sachin Tendulkar
Photographs:
Reuters