Former stumper Steve Rixon believes Australia has lost their ruthless cutting edge under Ricky Ponting and wants Simon Katich to take over the Test captaincy reins.
According to him, Ponting, despite being a magnificent batsman, has never been a great captain and the team mellowed down under his leadership.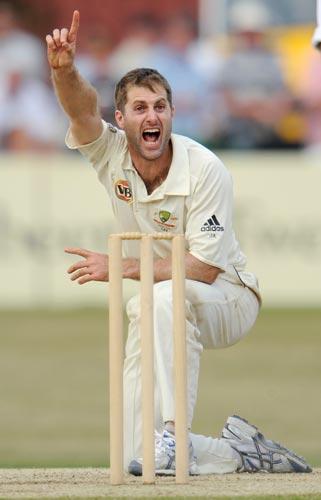 "It's time to allow a stronger character like Simon Katich to take over," he argued.
"We've lost our edge. I don't relate to the brand of cricket we are playing under Ricky. We aren't playing the sort of cricket that has made us ruthless and a team that no one really likes to play," Rixon said.
"Teams aren't capitulating under pressure like they used to. We seem to have a more timid nature...and that could certainly have a bearing on a tight series like the one in England," he was quoted as saying in The Daily Telegraph.
"If we're going to look at change, I'd be looking at Simon Katich. Simon is a tenacious leader. I worked with him at NSW and I know what he can offer as a captain. He's tough, he won't take a backward step, he plays aggressive cricket - and that is synonymous with the Australian style," Rixon added.
Lashing out at Ponting, Rixon said, "Ricky will be remembered as a great batsman who led from the front, but he won't be a great captain. I've sat back and really hoped Ricky would be a great captain, but I'm not seeing that." 
Dwelling on the team's Ashes debacle, Rixon said, "We're struggling against sides we should be beating. England are renowned for capitulating under pressure, but we never got ruthless or flexed our muscle." 
Like Rixon, former Test player Greg Matthews also finds Ponting not in the same league of Steve Waugh or Ian Chappell and backed Katich. 
"Before the Ashes series, I felt the strongest man in Australian cricket was Simon Katich. His character, his intent, he bats like his life depends on every ball," Matthews said.
"It's just obvious for me. If I was in the trenches, he'd be the first guy I'd pick. I don't think it's inaccurate that Ricky is quite regimented in the way he goes about his leadership. He's not dynamic, as such, like a Mark Taylor or an Ian Chappell," Matthews added.