'If they're looking for someone who can play spin well in the subcontinent, I'm sure he's got his name up there'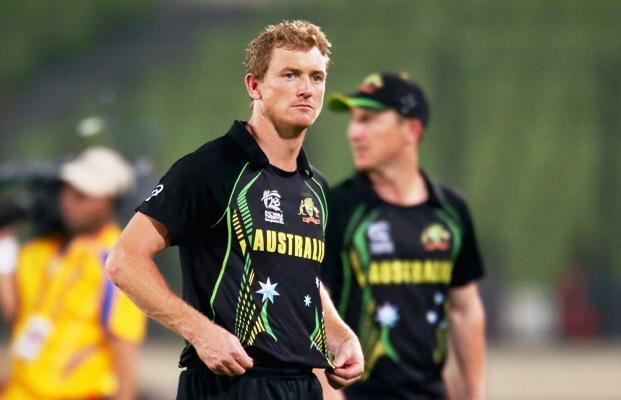 IMAGE: Australia's George Bailey. Photograph: Getty Images.
Former Australian cricketer Dan Marsh has called on his country's side to consider George Bailey for selection for next year's tour of India, saying that the Tasmanian batsman has the prowess against spin to suit the recently proposed 'horses-for-courses' selection policy.
"If they're looking for someone who can play spin well in the subcontinent, I'm sure he's got his name up there. He will just have to back this up and ... continue his good form in Shield cricket, as he did last year, to get his name up there," Marsh was quoted as saying by cricket.com.au.
Bailey has proven himself as an excellent player of spin in the ongoing ODI series against Sri Lanka, having accumulated a total of 226 runs in four matches so far, including his unbeaten 90 in Dambulla.
The 33-year-old batsman, however, has made only five Test appearances and that came during the triumphant Ashes whitewash in 2013-14.
Marsh, who is Bailey's state coach and son of National Selector Rod Marsh, said that the Australian batsman was smart enough to bank on the experience that he had gained from his first five Tests.
"I think the lessons he would have learnt from his first five Tests, he's a smart enough bloke that he would carry those on into the sixth, seventh and eighth Test he plays. That's what driving George. He wants to play Test cricket again. It's the ultimate test and he wants to get back there," Marsh said.
While applauding Bailey for developing an effective game plan against Lankan spinners in the ODIs, Marsh believes the former's method would also prove to be fruitful in longest format of the game.
"I can't see why not.If you look at the way the Sri Lankans played our spinners, they certainly swept a lot and very effectively. He would have gone in with a game plan over there after watching the Test series that he was going to have to do some sweeping," insisted Marsh.
Australia, whose losing streak in Asian conditions extended to nine games following a 3-0 defeat to Sri Lanka last month, will tour India for a four- Test series in February and March next year.