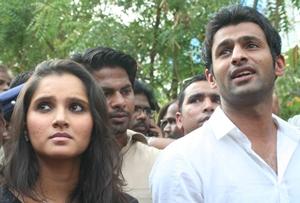 Ramesh Gupta, Delhi's eminent advocate who is representing Shoaib Malik in the case filed by Ayesha Siddiqui, is confident that the former Pakistan cricket captain will emerge victorious from the marriage muddle he is in.
"I have no doubt that the former Pakistan cricket captain will emerge a clear winner in this case," he told rediff.com on Tuesday.
Shoaib, who is in Hyderabad to marry Indian tennis ace Sania Mirza, is in a legal tangle because of an alleged affair with Ayesha. The Hyderabad girl claims Shoaib married her over the telephone before dumping her without a divorce because of her being overweight.
"There is no case against him. I have gone through the First Information Report and find there are only allegations against my client. There is no substantive evidence produced," Gupta said.
Shoaib maintains that the girl who is making the allegations is not the one he committed himself to during an Internet affair.
Asked about the nature of allegations made out against his client, Gupta said they are levelled under section 498(A),506 and 420.
"Section 498(a) of the Indian Penal code deals with demand of dowry. The fact is Ayesha has not been able to produce evidence that she brought dowry. 506 deals with intimidation. No time or date has been given by the complainant.
"She claims that Shoaib had threatened her to withdraw the case. Section 420 deals with cheating. My client did not cheat; in fact, he got cheated.
"Please get in touch with my colleague Javed Razak in Hyderabad in case you need clarification," Gupta said, before rushing to court in Patiala House complex.
Razak, when contacted, said everything is placed before the honourable chief judicial magistrate's court, which has jurisdiction over Banjara Hills.
Razak said all the allegations against Malik "flew fast and thick only after reports emerged in the media that he and Mirza were to get married on April 15".
He said it is not his business to say whether the marriage will be held as scheduled, on April 15, or postponed.
"It is for the couple to decide," he added.
Photograph: SNAPS INDIA