The integrity committee of the Pakistan Cricket Board has exonerated former captain Shoaib Malik of "any questionable source or activity" vis-a-vis his earnings, paving the way for his inclusion in the national team.
The high-powered committee had blocked his selection to the team after doubts emerged over deposits in his foreign bank accounts and the former captain unable to satisfy the committee about his sources of income and how he had spent it.
The deposits came to light after the spot-fixing scandal broke in England last year, and the PCB directed all its players to submit their assets and bank account details as part of its new anti-corruption measures.
After several hearings, the latest being on Friday, the all-rounder was cleared after submitting all relevant documents.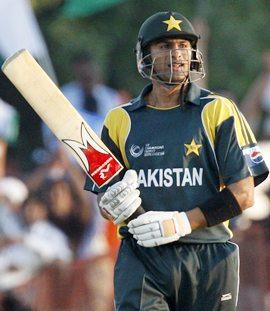 "The Integrity Committee after detailed deliberations has unanimously reached the conclusion that prima facie Shoaib Malik has been able to establish that the said deposits in his overseas account did not emanate from any questionable source or activity.
"As against that no incriminating material to the contrary was available on the record hence Shoaib Malik is hereby cleared by the Integrity Committee," a statement by the committee said.
Malik was delighted with the development.
"It is a big relief to be cleared to play for my country again. It is also a big relief to have this stigma removed from my name," a delighted Malik told reporters in Lahore.
"I have been playing domestic cricket and taking part even in Ramazan tournaments just to keep myself fit and ready for a comeback. I have done well in domestic cricket and hopefully the selectors will consider me now for the Zimbabwe tour," Malik said.
Malik, 29, who has played 32 Tests and 192 one-day internationals and is married to Indian tennis star Sania Mirza, last played for Pakistan against England at Birmingham in 2010 and since than was not considered for selection.
The seasoned all-rounder, who led Pakistan between 2007 after the World Cup to early 2009 before being replaced as captain by Younis Khan, is named among the reserves for the Zimbabwe tour.
Chief selector Mohsin Khan said since the board has now cleared Malik the selectors will consider him for the Zimbabwe tour.
"The selectors will discuss what is the best possible way to bring Malik back into international cricket. Because we have number of tough assignments coming up against top teams after this tour," the chief selector said.
Malik admitted that the last few months had been hell for him and his family.
"It was so disappointing to not be selected for the World Cup and it hurt. But I didn't give up hope and my wife and family supported me a lot. I know I would be cleared one day as I have never done anything wrong," he said.
The integrity committee is yet to clear Test leg-spinner Danish Kaneria, who is also being kept out of the national team as the committee wants confirmation he is cleared in a spot-fixing investigation carried out by Essex police last year in England.