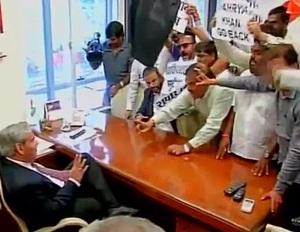 The much-anticipated talks between Board of Control for Cricket in India (BCCI) president Shashank Manohar and his Pakistan counterpart Shahryar Khan on the proposed bilateral series have been rescheduled for Tuesday after protests by Shiv Sena, a right-wing political party, activists forced the Board to cancel the meet, in Mumbai, on Monday.
Shiv Sena activists stormed the Indian Cricket Board headquarters protesting against bilateral series between the two countries during which hundreds of Shiv Sainiks 'gheraoed' Manohar in his office.
"The talks have not been called off. Mr Manohar and Mr Khan will speak to each other in evening today and tomorrow they are coming to Delhi for another round of talks," Indian Premier League (IPL) Chairman and senior Board functionary Rajiv Shukla told PTI.
Shukla strongly condemned the attack by Shiv Sena workers protesting against the Board president Manohar's scheduled meeting with PCB chief.
"Strongly condemns the attack on BCCI Office by Shiv Sena," Shukla, a top BCCI functionary, wrote on his twitter handle.
"BCCI is a responsible body and will not do anything against national interest. Cricketing decisions should be left to BCCI."
"Cricket is a gentleman's game and the spirit of the game expects same generosity and tolerance from those who love the game," he further tweeted.
Manohar had invited Khan for talks on the much-anticipated series scheduled in December.
Khan and PCB's executive committee head Najam Sethi were in the city for the meeting after discussing the planned series with BCCI secretary Anurag Thakur earlier on the sidelines of the ICC meeting in Dubai.
Thakur had assured him a final decision could be taken later this month and conveyed Manohar's invitation to visit India.
There is speculation that the two neighbours could play either a bilateral series in the UAE or agree to a possible triangular series in December also involving Bangladesh.
This is the second Shiv Sena protest after black paint attack on Sudheendra Kulkarni on October 12 to protest against the visit of former Pakistan Foreign Minister Khurshid Mahmud Kasuri.
Photograph: Shiva Sena workers 'gherao' BCCI chief Shashank Manohar/ Twitter