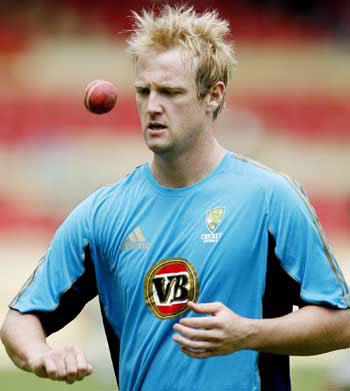 All-rounder Cameron White has said that he had no reservations about choosing between leading Victoria into its Sheffield Shield title defence against Queensland and appearing in the Indian Premier League (IPL).
White has already missed the start of the Indian Premier League season and a tidy sum of $200,000.
But he says missing out on leading the Bushrangers was never an option.
"There's a fair bit of money involved but this is the reason I get the opportunity to go and play in the IPL, because I've played for Victoria and they've given me the opportunity. I think it was probably the right thing to do and it was what I wanted to do," the Herald Sun quoted White, as saying.
Team-mates David Hussey and Andrew McDonald similarly put their home team ahead of IPL cash.
White's return from the recent Twenty20 and One-day International matches against New Zealand is a huge boost to a Victorian side that needs only to draw the home final to claim back to back Shields for the first time in 30 years.
The Victorian skipper also confirmed opening batsman Chris Rogers got through a searching 30-minute batting session to test his fractured left hand and he will take his place at the top of the order.
There is no question Victoria will bat first and stay at the crease for as long as possible should it win the toss this morning, knowing the Bulls must take 20 wickets to wrest the title out of Victorian hands.
"Hopefully you bat into a position to win the game. It's obviously important to bat long and deep in the first-innings if you get a chance," White said.
The only first class match Victoria has lost in more than two season was the one-wicket defeat in a thriller against the Bulls at The Gabba three weeks ago, a fact skipper Chris Simpson puts a lot of store in.
"Obviously Victoria's had the wood over us in Shield cricket and to be able to, what we think, is slowly try and turn things around I think that's a good start in that direction. If we can get up in this game it will be a huge turn," Simpson said.
"They're a very good cricket team with a lot of good form in the past few years. We're obviously after their record and trying to emulate what they have done in the last five years," he added.