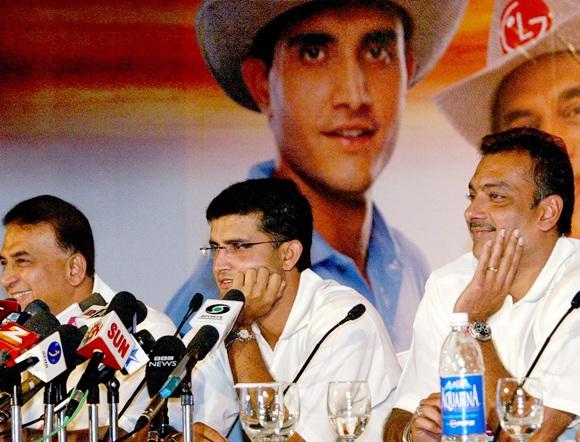 IMAGE: From right, Ravi Shastri, Sourav Ganguly, Sunil Gavaskar. Photograph: Kamal Kishore/Reuters.
Former India internationals are sharing contrasting views on the raging verbal battle between former captains Ravi Shastri and Sourav Ganguly in the wake of the national coach's appointment.
While former batsman turned cricket commentator Sanjay Manjrekar and veteran opener Gautam Gambhir have criticised Shastri, former captain Bishen Singh Bedi has rallied for his support.
"More than Sourav, I think Ravi is miffed with the rejection. It's a new experience for him. BCCI have made the better choice as coach," Manjrekar tweeted on Wednesday.
Veteran India discard Gambhir spoke to ABP News and was also critical of Shastri's comments. Gambhir's comments were in sync with Manjrekar's view.
"Ravi Shastri's comments only shows his desperation. Kumble is the best choice and he is a hard working person," Gambhir said.
However, earlier in the day Bedi supported Shastri in what has become a major controversy.
"Not getting coach's job apart RJSHASTRI has every reason 2b peeved with selection process hence 1 selector played truant..not above board!!" Bedi tweeted.
After he was overlooked for the coach's job, Shastri slammed Cricket Advisory Committee (CAC) Sourav Ganguly for not being present in the meeting when he was interviewed through skype.
Ganguly on Wednesday hit back at Shastri saying that the former India all-rounder was living in "fool's world" if he held him responsible for the rejection.
Another former captain Anil Kumble was chosen ahead of Shastri as the head coach for a period of one year.