'Look for a word in dictionary: Respect'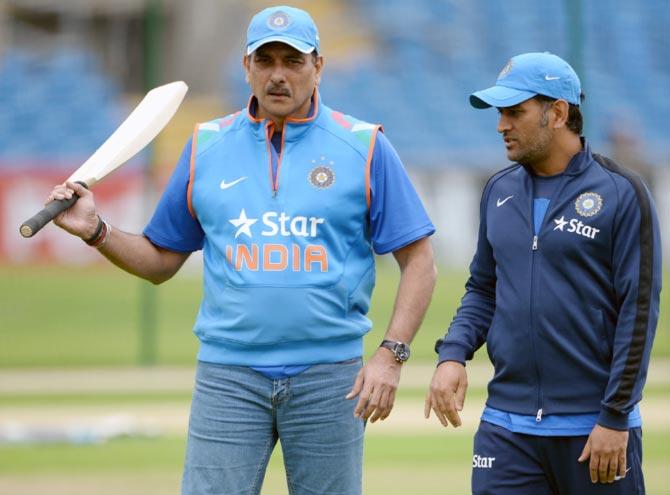 IMAGE: Ravi Shastri, left, with Mahendra Singh Dhoni. Gareth Copley/Getty Images
The Indian cricket team's director, Ravi Shastri, spoke highly of Mahendra Singh Dhoni, calling India's limited-overs' captain an all-time legend who plays on his own terms.
Following a good showing by the trinity of Virat Kohli, Shikhar Dhawan and Rohit Sharma, the rest of India's batting went largely untested in the just-concluded T20 series in Australia though critics still murmur whether Mahendra Singh Dhoni has outlived his role as a batsman and captain.
"Just one word to them, and I repeat myself: don't mess around with legends.
"Ask them to look for a word in dictionary: Respect. His (Dhoni's) contribution is second to none in Indian cricket," said Shastri, in his inimitable style.
The former India captain insisted the present Indian team is much more than just these individuals and that's the reason why it is the world's best team in Tests and T20s and second in the ODI rankings.
"They play for each other's success and there's been a massive improvement in all three departments of the game. If I have to pick one aspect that's been most heartening then it got to be fielding in the last 14 months. It's a road less travelled in our cricketing past," stressed Shastri, as he lauded the support staff for their roles.
The results have poured in during this stretch of time: England beaten at home for the first time since 1990; Sri Lanka bearded in their den after 23 years; South Africa's unbeaten decade-long record collapsing in a heap and now Australia stunned.
From a middling team in the International Cricket Council rankings in 2014, India is now 1-1-2 in the three formats of the game.