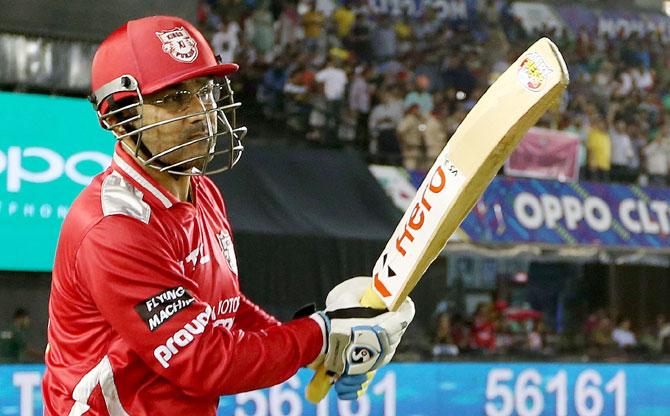 IMAGE: Former Kings XI Punjab opener Virender Sehwag. Photograph: BCCI
Former India opener Virender Sehwag has been appointed by Kings XI Punjab as mentor for the upcoming Indian Premier League Season 9.
"In his new role, Virender Sehwag will work closely with head coach Sanjay Bangar and be responsible for guiding and motivating the squad to help them excel at their performances," read a statement from Kings XI.
"Virender Sehwag has been an integral part of the KXIP squad over the last two seasons and understands the dynamics of the team very well. With him stepping in as the mentor, the team will immensely benefit from his guidance and advice.
"His knowledge of the game will certainly help in establishing a strong team and bring out the best in all the players. I am sure that Sehwag will prove to be a great mentor and his presence will be extremely appreciated by the squad," said Bangar.
Sehwag, on his part, said he is looking forward to his new role with the franchise.
"I am extremely happy to continue my journey with Kings XI Punjab. Given the relationship and camaraderie I share with the squad, management and promoters, it feels like I am with my extended family. Being a part of KXIP has always been a special experience and I am looking forward to the upcoming season in my new role."
Sehwag, who recently retired from international cricket, had said he took the decision because he did not want any young talent to miss out on an opportunity to play in the T20 league.
'Indian players play in the IPL to get into the Indian team. There is no point playing in the IPL when I have retired from international cricket. I did not want a youngster to miss out because of me.'
Sehwag had also expressed his desire to coach in the cash-rich league.
'I would love to be a coach, mentor or a batting consultant. I would love to commentate in Hindi as most people who watch the game are more comfortable with Hindi in India rather than English,' the opener said while sharing his prospective future plans.