Sri Lanka captain Kumar Sangakkara has signed up with the Lancashire County Cricket Club as their overseas player for the 2010 season.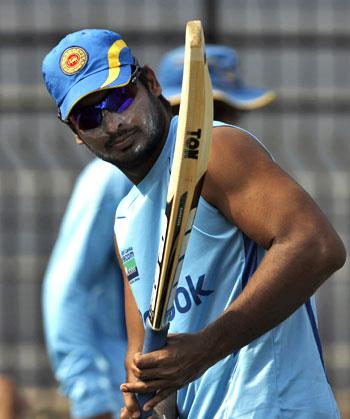 "Kumar will join up with the Club once his commitments conclude with Sri Lanka at the ICC Twenty20 World Cup and the proposed Asia Cup," Lancashire said in a statement.
The 32-year-old Sangakkara follows in the footsteps of team-mates Muttiah Muralitharan and Sanath Jayasuriya in representing the Red Rose County.
"With so much international cricket being played around the world it is difficult to find world-class players who are available for extended periods during our domestic season. So I'm delighted we have secured the services of Kumar for the majority of our season and I know he is looking forward to playing for Lancashire," said Mike Watkinson, LCCC Cricket Director.
"Kumar is an excellent batsman, experienced leader and is a proven match winner. He has all the attributes and qualities we look for when signing an overseas player and is someone we know can make a significant contribution in all three competitions next season," he added.
Sangakkara is likely to miss the first six weeks of the domestic season due to commitments with the national team.
Sangakkara said he was excited about his stint with the club.
"I am thrilled to be joining Lancashire and really looking forward to representing a club and county that has such a long and distinguished cricketing history," he said.
"Murali always talks fondly of his times at Lancashire so I had no hesitation in accepting the club's kind offer to play for them in the upcoming season," he added.