'How could you describe people with 'no brains'? Animals got brains. We're not an object.'
'To describe our team who were defending champions four years ago as we guys with no brains is really out of order.'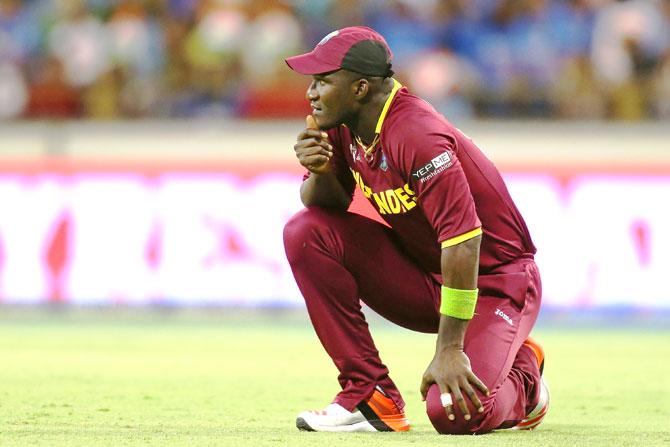 IMAGE: West Indies captain Darren Sammy. Photograph: Paul Kane/Getty Images.
Bitter but not unnerved by the "lack of respect" for his team even back home, West Indies captain Darren Sammy said the side's stupendous World Twenty20 run has been possible because of the players' unity in the face of acute adversity.
The West Indians almost did not make it to the World T20 owing to a bitter pay dispute with their Cricket Board. But once here, they showed sublime form to storm into Sunday's final where they will take on England.
"People just paint us as money grabbing cricketers because of our success in Twenty20 cricket. But yes still they don't respect us in that format. We get that sometimes from our own board," Sammy said in the pre-match press conference.
Blasting their critics, Sammy said the more they are castigated, the more they are united. He was reacting to a jibe by former English cricketer Mark Nicholas, who described the Windies players as "short of brains" in an article.
"How could you describe people with 'no brains'? Animals got brains. We're not an object. To me that particular comment really set it off for us. You could see me talking about it.
"It's kind of emotional, as for somebody whom I respect and had good rapport with that particular gentleman. To describe our team who were defending champions four years ago as we guys with no brains is really out of order," Sammy said.
"Everybody is entitled to their opinion. You guys ask most difficult questions to get a good story. We understand that. The key for us is the belief in our own circle. Whatever, they say it does not really matter."
"Gods don't love the ugly and we're very wonderful and very beautiful men that's why we play exciting cricket. For us all these things have happened before the tournament. That's the passion, determination that we take on the field. It's one more step. We believe that we could do it," he added.
Sammy said the contract row with their Board, WICB, in the lead up to the big event, has actually brought the players together.
"It's been a tough journey. A lot happened before the tournament started but I always believed everything happens for a reason. I think the pre-tournament shenanigans brought us really closer together as a team. I don't know whether you have heard it. It feels like it's us against everybody else.
"All these things bring us closer. The fact is few of us are old now so we are aware this could be the last for a few of our key players. That brought us together and we formed our own circle," he said.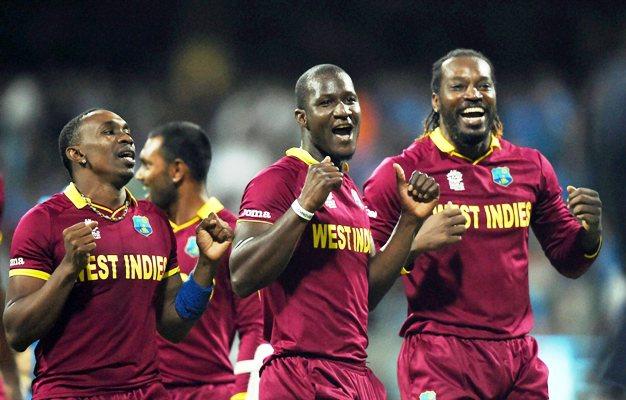 IMAGE: West Indies players celebrate after winning their semi-final against India at Mumbai. Photograph: Danish Siddiqui/Reuters.
Semifinalists in 2009, the West Indies emerged champions in 2012 and lost to Sri Lanka on D/L method in a rain-interrupted match in Bangladesh in 2014 in the last edition.
"We came here after winning a tournament in 2012. A hailstorm knocked us out in Bangladesh. The year before we were in the semis (in 2009). It's a format we've been consistent but nobody gives us a chance," Sammy said.
Simplifying their approach, he said: "We just wanted to take six steps. It's a six step process to the Cup.
"We have taken five steps. We took a big one against India. We had a bit of a skid on the way which kind of knocked us off but we got up. We are left with one more step.
"We have improved, we believe in each other. We enjoy enjoy each others success. Just thinking about lifting that Cup in Kolkata, I could almost foresee what's going to happen after. We have a cricket game to play first," he said stressing on the reality.
Sammy further said they would like to be called David and not Goliath in Sunday's contest against England.

"We always are David. David is a winner. Even now I still think people don't give us a chance. Goliath is big and strong but David defeated him with a sling and one shot. We will always see ourselves as David. We will play like David, be smart about it.
"Believe in ourselves in the dressing room. Believe in its order. If we do all these things we know we could do with that belief, we're going to lift the Cup," he said.