'Favourable conditions determine the slots whether it is Nos 6, 7 or 8. It can be any position as per the team management's call'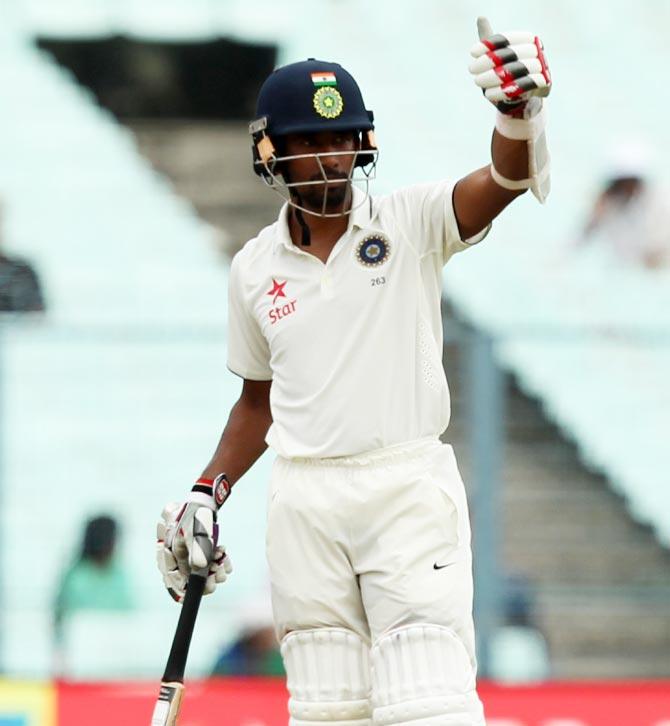 IMAGE: Wriddhiman Saha. Photograph: BCCI
Change is the only constant. This saying holds true for Wriddhiman Saha as invariably the 'keeper is asked to bat in different batting positions.
In the first Test against Sri Lanka, Saha, who has a 40 plus average in first-class and three Test hundreds, came in at number 7 and 8 in both innings.
Asked if the balance is hampered, if he has to bat at those positions, Saha replied: "It's not that I always bat at No 7 (or No 8), as I have batted at No 6 also. We (along with Ashwin and Jadeja) are being rotated as batting position depends on the strength of the opposition bowlers."
While the opening slot has been shared between Murali Vijay, KL Rahul and Shikhar Dhawan, Cheteshwar Pujara has been a steady one down with Virat Kohli and Ajinkya Rahane making the next two slots their own.
However, post VVS Laxman's departure, the No 6 position, which requires someone to stem the rot in case of a collapse or face the second new ball with tail-enders, has not seen a permanent occupant.
Saha himself has played at No 6 but in India's second innings at Kolkata, he came as low as No 8, not exactly common among the wicketkeeper-batsmen these days.
"Favourable conditions determine the slots whether it is Nos 6, 7 or 8. It can be any position as per the team management's call," said Saha, defending the move.
Saha mirrored teammate KL Rahul's opinion saying that a few overs more could have ensured an Indian win.
India had Sri Lanka on the mat at 76 for 7, chasing an improbable 231 before bad light ensured a draw.
"The team morale was fantastic even though we couldn't bat as per expectation in the first innings. But we made a good comeback in the second innings. Shikhar, Rahul and Virat batted well and when you get them seven down for less than 100, it automatically boosts your morale.
"May be with a bit more time at our disposal, we could have won," he lamented.
"We tried hard but initially if we could have got the first few decisions quickly, it could have been different. But time was also a constraint as we first wanted to be safe and set a score that was unattainable and then attack. That was our game plan so that bowlers would go all out."
With India going with five specialist bowlers, the glovesman knows that the onus of scoring runs in the middle and lower order rests on him, Jadeja and Ashwin.
"You can only win Test matches by taking 20 wickets so preference is always given to bowlers. Now (if five bowlers are playing), you need contribution from everyone -- myself, Ashwin and Jadeja along with lower order."
Once again asked whether the South Africa tour is there at the back of his and the Indian team's mind, he stressed on staying in present.
"I have always believed in match-by-match preparation. Yes, SA series is at the back of our minds but when you win a Test match, you take that confidence into the next game and that's what we are trying to do," he concluded.