The Master recalls his match-winning century on his 25th birthday.
Harish Kotian listens in.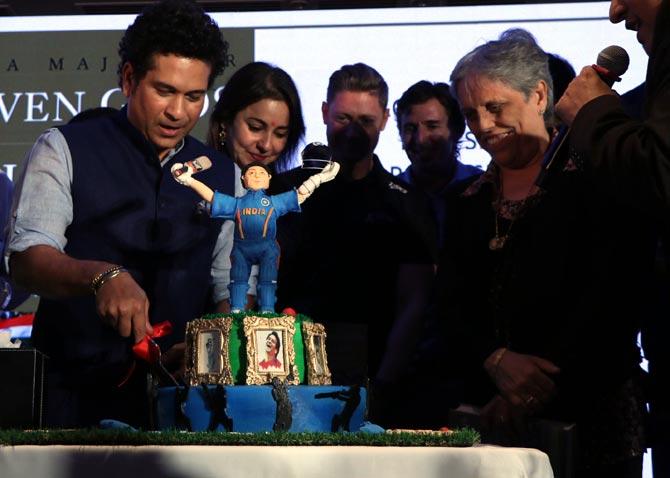 Batting icon Sachin Tendulkar enjoyed a stellar career that stretched nearly two-and -a-half decades and produced a world record 100 international centuries and lots and lots of runs across formats.
Among those 100 hundreds, one that stands out for Tendulkar and all his fans is his magical innings of 134 against Australia in the final of the tri-series in Sharjah in 1998.
And what made it doubly special that the match-winning ton came on his 25th birthday, helping India outclass the all-conquering Australian side led by Steve Waugh.
He had produced another magical innings two days earlier, smashing a brilliant 143 to help India qualify for the final, defying not only a strong Australian bowling, but also a sandstorm which halted play for nearly 25 minutes.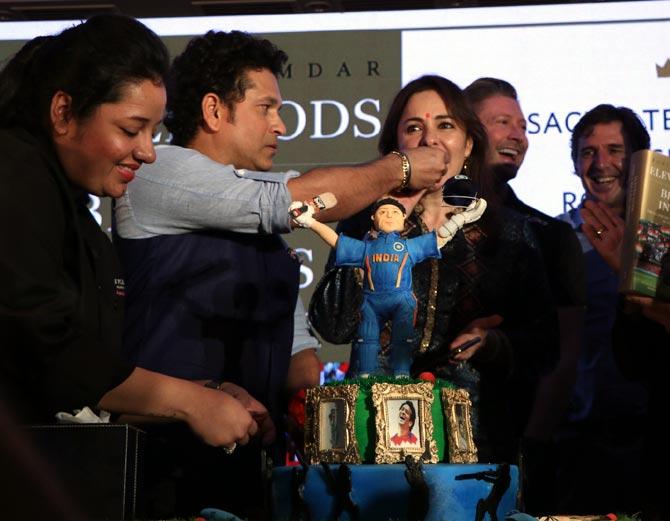 Tendulkar recalled that special evening on the eve of his 45th birthday at the launch of Boria Majumdar's latest book Eleven Gods and a Billion Indians: The On and Off the Field Story of Cricket in India and Beyond in Mumbai on Monday.
Video: Afsar Dayatar/Rediff.com
"Talking about the Sharjah trip in 1998," Sachin recalled, "it was a special one, a big one because it is something which happened with me for the first time on the cricket field. When I was batting there and suddenly I see this desert storm approaching us, it was like a Hollywood movie and the first thought that came to my mind was 'Where is Gilchrist?' because I thought I would be blown away and I was all prepared to grab him."
"But all that happened and we went to the dressing room and the target was reshuffled and a fresh target was given to us."
"One thing that was going on in my mind was that we need to win against Australia because if we qualify for the finals, having beaten them in the earlier game we would get them to think."
"We were staying in Dubai so the drive post match from Sharjah to Dubai, you unwind and go to sleep; it was almost 2.30am. The next day I was meeting Ravi (Shastri), my former manager Mark Mascarenhas for lunch and I felt I hadn't recovered (after his innings of 143 in the sixth match of the tri-series against Australia)."
"In those days, due to lack to knowledge and lack of awareness the post match recovery programme were not given as much importance to be honest and this (change) has happened in the last 10, 15 years."
"I woke up in the morning feeling really stiff and I went out and had lunch with them and later on in the evening there was another official dinner. So there was no time for recovery as such and by the time I realised the next day we were going to the ground and it happened to be my birthday so all the celebrations happened and a number of cakes were cut and here I was out in the middle (for the tri-series final)."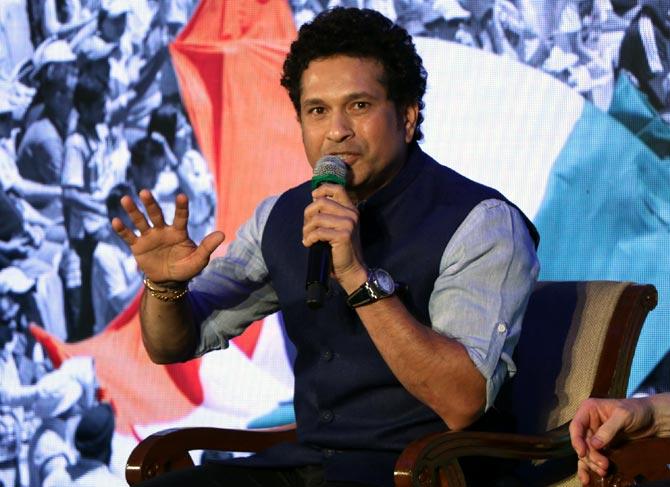 "Luckily, we got to field which I think was an advantage, but at the same time the heat in Sharjah is so much that you want to come to the dressing room and put your feet in the ice bucket."
"When I went out to bat in the evening I felt mentally I was not quite there. I was trying to focus and I knew it was all about spending as much time as possible there and then the rhythm was going to come back."
"It took about 5, 6 overs and till then I was not at all happy with the way I was moving and eventually confidence is all about which part of the bat is hitting the ball and I wasn't finding the middle of the bat."
"I waited for my turn and eventually I played those couple of big shots off (Michael) Kasprowicz which went for two sixes in a row and from thereon things started rolling the way I wanted and we ended up winning the tournament."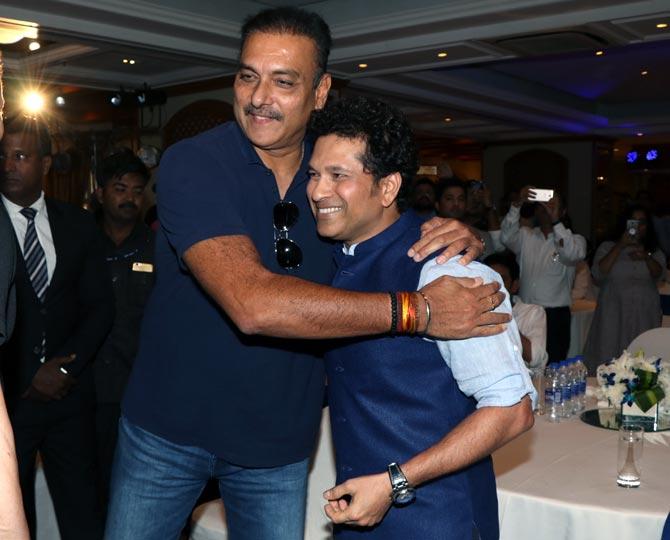 "But what an incredible experience it was. That was one period where the Australians travelled across the world and thrashed everyone."
"They were by far the best side in the world and to go out chase 270-odd was a big ask, but we were able to do that."
"When I got back, the kind of reception that I received is still there. I remember yesterday itself I was talking to one of my friends and we were discussing about that single wicket tournament in Shivaji Park where I was there as the chief guest the next day so that buzz was such that Shivaji Park was completely crowded with cricket fans and that left an impression on me and it was all due to Sharjah."