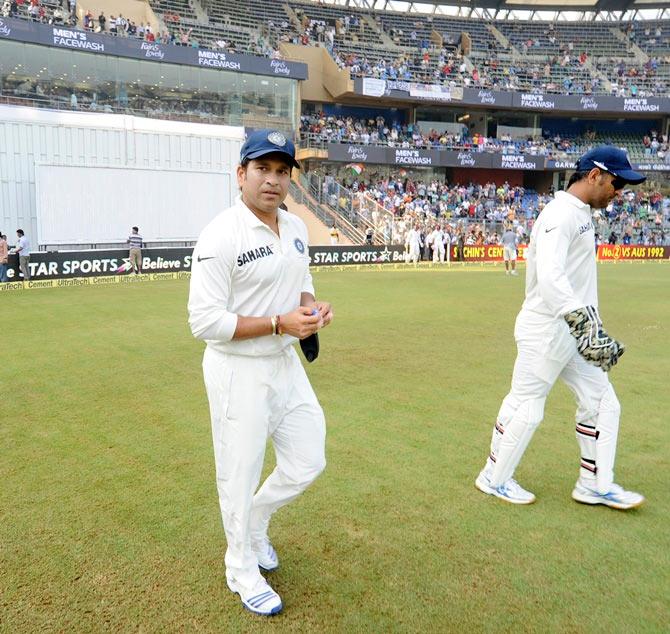 Sachin Tendulkar during his final Test at the Wankhede. Photograph: BCCI
Sachin Tendulkar's final Test appearance is revisited in a new book which tries to capture all the excitement and emotion during the two-and-a-half days of the match.
Final Test: Exit Sachin Tendulkar by writer-journalist Dilip D'Souza is a close scrutiny of Tendulkar's last Test, played at the Wankhede stadium, in Mumbai, in last November.
Besides minute details of the match, both on and off the field, the writer also teases out larger issues that plague the game, in India as well as overseas.
He builds on close and detailed observation of those two-and-a-half days, capturing all the hysteria it spawned, the love and adulation that showered from the rafters at the
Wankhede and the choking emotion.
Final Test… discusses cricket from the old to the new, as Tendulkar took to the pitch one final time.
"It's tough to find words to describe what the crowd is doing, as he walks down the stairs and onto the field… We all knew this moment would be the loudest, most raucous of all -- besides being worthy of capturing on virtual film -- and yet even so I don't think I could have anticipated the wall of sheer noise that rises out of the stadium," he says about the crowd anticipating Tendulkar on the field.
"It's an almost physical presence, this song of adoration for this icon to a country. It's almost as if Tendulkar has to push through it, part of crashing waves, to find his way to the middle," adds D'Souza.
Tendulkar scored 74 in the only innings he played in the match. India won by an innings and 126 runs.
"Could Tendulkar have left the game like that? All through this last Test, his fans have plotted ways that they'd get a final glimpse of him -- yet another final glimpse of him. Given that, they'd have been hugely disappointed had we all, together, not played out this extended goodbye.
"No, the conclusion seems inescapable. He might have chosen the venue and the time, but the manner of his departure was not his to choose.
"As Anjali Tendulkar confessed in an interview during the Test, she has got used to the idea that her husband belongs first to India, then to her and his family," says an excerpt from the book.
Sport, according to the author, is invariably filled with instantly proclaimed historic moments, of course: a rare Indian Test win at Lord's, or Nadal knocked out of Wimbledon early.