Sachin Tendulkar and his wife Anjali voted in the Brihanmumbai Municipal Corporation elections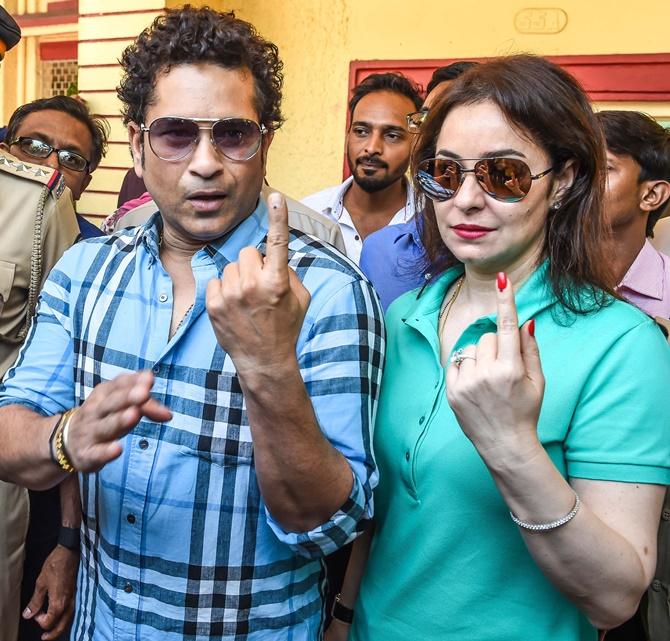 IMAGE: Sachin Tendulkar and his wife Anjali voted at Bandra.. Photograph: Pradeep Bandekar
Polling for the Brihanmumbai Municipal Corporation (BMC), with 227 municipal wards, concluded on Tuesday.
Legendary cricketer Sachin Tendulkar joined fellow Mumbaikars to cast his vote. The 43-year-old and wife Anjali voted in Bandra.
The former batsman - who is also a Member of Parliament - had urged people to exercise their political right.
"Rather than complaining and being unhappy about something, I would ask everyone to come and vote and bring in that change. Whatever change they need, they need to be here to vote to bring in that change," Tendulkar requested.
The local body polls would be witnessing a high pitch battle between the Bharatiya Janata Party (BJP), the Shiv Sena, the Congress, the Maharashtra Navnirman Sena (MNS) and the Nationalist Congress Party (NCP).
Notably, the Shiv Sena, an ally of the BJP at the Centre and as well as at the Maharashtra Government, will be facing off with the latter after Uddhav Thackrey decided to part ways for the BMC polls.