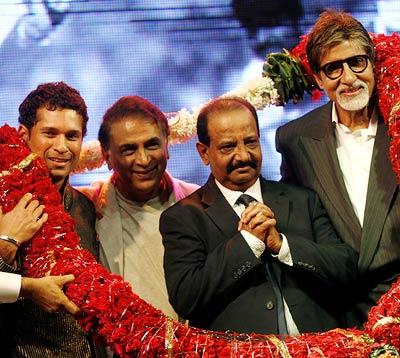 Sachin Tendulkar on Thursday acknowleged Sunil Gavaskar's contribution in his career, revealing how the former batting ace played a major role in his successful journey in international cricket.
On the verge of completing 20 years in the game, Tendulkar said every time he crosses a milestone or breaks a record Gavaskar calls to congratulate him.
"It always special when the person whom you have idolised congratulates you on your achievement. I get a lot of calls that day and I thank everyone. But the one call from Gavaskar will always be cherished," Tendulkar said in Mumbai at a function to felicitate Gavaskar and Gundappa Viswanath on their contributions to Indian cricket.
"Gavaskar Sir was in Nepal at the time, but he personally called and congratulated me on getting 34 centuries in Test cricket. I think that moment will always stay with me," he added.
Tendulkar, who is 49 runs short of 30,000 international runs, also reminisced about a letter that Gavaskar personally wrote to him after he was disappointed at not receiving the Junior Cricketer of the Year award in 1987.
"I still remember, when I didn't get the junior cricket award I got a handwritten letter. I was disappointed when I didn't get the award initially, but when I got that letter all that disappointment went away. When you are small every encouragement you get helps you a great deal, and if it comes from someone like him it means a lot.
"That letter gave me a different sort of momentum and all disappointments that I had till then went away," he said.
He also revealed that Gavaskar was the first person who took him inside a dressing room when he was doing 'ball boy' duty during the 1987 World Cup in Mumbai.
"I also remember that I was a ball boy during the 1987 World Cup. I met Gavaskar for the first time and he took me inside the team dressing room for the first time. At that point I didn't know what to say or do and I quietly sat in a corner and saw the match," said the ace batsman, who has scored 45 One-Day International and 44 Test centuries.
Bollywood's legendary actor Amitabh Bachchan, who felicitated both Gavaskar and Viswanath on the occasion, said his achievements are nothing compared to the three greats of Indian cricket.
"I know I am elder to them in age and taller them in height, but today I am feeling quite small compared to these three greats -- Sachin Tendulkar, Sunil Gavaskar and Gundappa Viswanath. Their contributions to the country, society and cricket will always be invaluable forever. My best wishes to Sunilji and Gundappaji on their 60th birthdays. I pray to god that they live forever and pass on their experience and knowledge to generations to come," Bachchan said.
Image (left to right): Sachin Tendulkar, Sunil Gavaskar, Gundappa Viswanath and Amitabh Bachchan.
Photograph: Punit Paranjpe/Reuters